News
Gov. Greg Abbott says he will defy DOJ orders on the floating border wall
Texas Gov. Greg Abbott (R) on Monday sent a letter to the Biden administration explaining his plans to continue building a floating wall along the state's southern border, even after the Justice Department warned him last week that it plans to sue him for erecting the barricade.
"Texas will see you in court, Mr. President," the governor wrote, saying it is within his constitutional right to respond to the "unprecedented crisis of illegal immigration" he says is being caused by President Joe Biden's border policies.
"The fact is, if you just enforced the immigration laws that Congress has already enacted, America wouldn't be suffering from your record-breaking levels of illegal immigration," Abbott continued, defending the mile-long buoy barricades he erected in the Rio Grande earlier this month.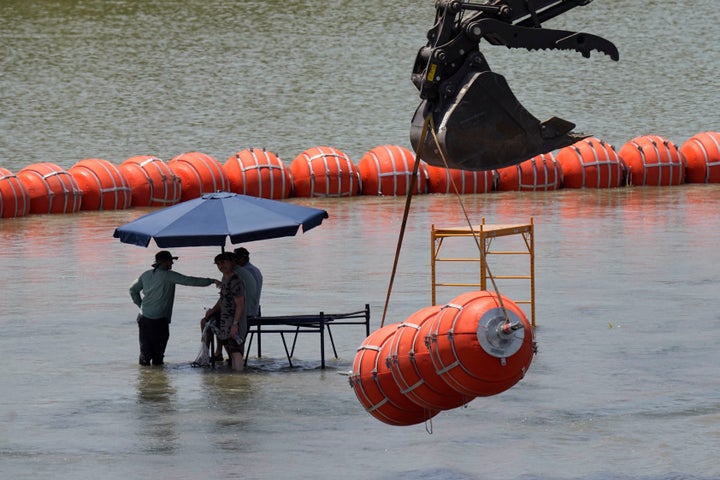 While U.S. border officials have stopped a record-breaking number of migrants in recent years, there has been one Silence on crossings for months. Experts say that's probably because potential migrants are waiting to see what happens with US border policies, and because more migrants are using the new legal avenues to seek asylum from violence, political instability and corruption in their home countries.
In his letter, Abbott said his floating barricade is essential to protecting both migrants and US citizens.
"If you really care about human life, you need to start enforcing federal immigration laws," he said. "This is how you can help me stop migrants from risking their lives in the waters of the Rio Grande. You can also help me save Texans, and indeed all Americans, from deadly drugs like fentanyl, antitrust violence, and the horrors of human trafficking."
In reality, Show current data Almost 90% of convicted fentanyl traffickers were US citizens, and only 0.02% of migrants arrested for illegal border crossings carried fentanyl.
Abbott's letter is in response to a memorandum sent to him by the Justice Department last week, in which it disclosed plans to sue Texas for "unlawfully constructing a floating barrier in the Rio Grande," which could interfere with the federal government's responsibilities. The department referred to the Rivers and Harbors Act.