News
Greg Gutfeld Suggests Trump Can Destroy Surveillance Video for Stunning Reasons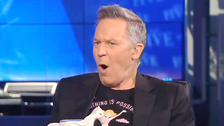 Fox News anchor Greg Gutfeld on Friday strongly downplayed new allegations that former President Donald Trump tried to destroy classified evidence in his case. (Check out the video below.)
"What is wrong with that?" Gutfeld said in The Five.
Gutfeld's tone didn't seem to do justice to the seriousness of the allegations.
New indictments by Justice Department special counsel Jack Smith allege Trump ordered the deletion of a computer server containing incriminating security camera footage from his Mar-a-Lago, Fla., home where Trump had hidden the classified files.
A supplemental indictment alleges that Trump and valet Walt Nauta, both of whom have pleaded not guilty, as well as a third person now charged, property manager Carlos De Oliveira, attempted to steal "security camera footage in the Mar-a -Delete Lago Club". prevent the footage from being made available to a federal grand jury."
But Gutfeld didn't think the… ownership charge was a big deal?
"What's this about, surveillance cameras? What's wrong with that?" he said. "What's the matter with – do you own these? Why can't you delete them? I don't understand."
Gutfeld, who angered the White House with a "terrible" Holocaust comment earlier in the week, was rebuked by people on Twitter (which has been renamed "X") over his latest controversial remark.
"Greg doesn't know how evidence works" wrote one user. "For example, if it's YOUR clothes that have blood on them, and there's an ongoing investigation into your missing spouse, why can't YOU throw away YOUR own clothes?" What a witch hunt."
Another tried to explain in a similar way: "This blood-soaked knife? What is wrong with that? It's *my* knife. Why can't I throw it away? I do not understand that."
NBC Judicial Correspondent Ken Dilanian said the new charges echoed Richard Nixon and the Mafia.