News
Harvard's Laurence Tribe discovers a major flaw in Trump's trial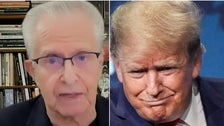 Laurence Tribe, a professor of constitutional law at Harvard University, called the indictment of Donald Trump "brilliant," but said there's one factor that could scupper the whole thing: timing.
"I think so [Attorney General] "Merrick Garland hasn't progressed as quickly as he could have," Tribe said Tuesday night on MSNBC.
As a result, the case against Trump over his actions leading up to the January 6 attack on the US Capitol could stretch into the next presidency.
"If the next presidency is held by either Donald Trump or one of his cronies or virtually any Republican, there is a horrible prospect of all of this being wiped out," he said. "And that it's relegated to a kind of historical footnote."
Tribe said it was a reminder of how "vulnerable and fragile" the legal system is.
"We have a system that may be too slow and opaque," he said. "And a system whose victory over politics is by no means guaranteed."
Watch his full discussion with MSNBC's Lawrence O'Donnell below: