News
'He left Congress': Trump slams GOP nominee Will Hurt over 'prison' digs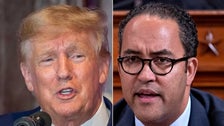 Donald Trump slammed Republican presidential nominee Will Hurd for being booed "SERIOUSLY" after telling a crowd in Iowa that the former president was running for office to "get out of jail."
Trump mocked Hurd via his Truth Social platform on Saturday, a day after the former Texas congressman landed the jab that sparked boos and jeers at the Republican Lincoln Dinner in Iowa.
"Last night in Iowa, it struck me that a little-known failed former congressman, Will Hurd, is ridiculously running for president. He resigned from Congress because it would have been impossible for him to win in his district – he did a really bad job," Trump wrote, referring to Hurd's six years in Congress and his decision not to stand for re-election in 2020.
The former president later called Hurd "wrong" for his digs before comparing his campaign performance to that of former New Jersey Gov. Chris Christie.
"Anyway, he was REALLY booed offstage when he said I was running to stay out of jail," wrote Trump, speaking after Hurd at the Iowa event.
"Wrong, if I hadn't run or ran poorly (like him and Christie!) and had no chance of winning, these prosecutions would never have been initiated or happened!"
Hurd's criticism comes as the former president faces three new crimes this week as part of the Special Counsel's investigation into his handling of classified documents.
Hurd referred to his military and congressional careers in response to Trump's post before launching further digs at the former president.
"Donald, I served on the front lines in the war on terror, then in Congress. I dedicated my life to fighting for America. You turned down your chance for a few reasons bone spurs and then applauded an attack on America on January 6," he wrote Hurd on Saturday.
"Real leadership is standing up and fighting for what is right for America. It's not about tiptoeing around Donald Trump. Whoever sits back and does not confront him only makes it possible for him to Hurd wrote.
Former Arkansas Gov. Asa Hutchinson also raised Trump's legal concerns at the event in Iowa on Friday, urging voters to chart a "new direction" for his party.
"As it stands now, you will be voting in Iowa while multiple criminal cases are pending against former President Trump," said the candidate, who was booed by a pro-Trump crowd earlier this month.
"Iowa has an opportunity to say: We as a party need a new direction for America and for Republicans. We are a party of individual responsibility, accountability and support for the rule of law. We cannot do without that."
Trump continues to have a comfortable lead over his fellow candidates in Iowa and is 30 percentage points ahead of Florida Gov. Ron DeSantis in a recent Fox Business poll of GOP caucus attendees in the state.