News
Hip-hop's favorite choreographer wishes for more vulnerability
As We close As hip-hop celebrates its 50th anniversary, it's only fitting to pay homage not only to the rappers and singers who paved the way, but also to the creatives who shaped the culture on the dance floor. dancer and choreographer Tweet boogieKnown in some circles as Tweetie, has danced with and for icons such as Jay-Z, LL Cool J, Mary J. Blige, 50 Cent, Jazmine Sullivan and Janet Jackson since she was barely a teenager.
Now 46, she brings her skills to the studio to help non-professional dancers honor their bodies and black culture through movement at Ailey Extension, a dance studio in New York City. In each class, she infuses her love, authenticity, and passion for the culture into every eighth narrator as if it were her first time on set. In a nostalgic two-step flashback, the Bronx villain tells us herself what it was like to be a woman and make the game in hip-hop.
I recently watched Ladies' First on Netflix, which highlighted the women who played an important role in the growing hip-hop culture. Yet their contributions over the years have often gone unacknowledged. What motivated you in an industry that is incredibly male-centric?
Before you even get into the game, you really need to get a picture of yourself and define your goal. You have to have a flair for what you bring to the table. And if you have your own table, pay attention to who is sitting at your table. Also, I was able to lean on other women who were confident and could offer help without feeling threatened.
Tell me about your first high profile dance job.
It was with Miss Jones. I was one of her backup dancers.
Yes, that was my first professional job. I made her video: "Where I wanna be boy." I had my first live performance with her, appeared on TV and on Soul Train. I remember seeing it Montell Jordan on the same tours. We went to LA for my 18th birthday. That's where I saw Biggie Smalls. He performed "Give Me The Loot". This experience with her opened my eyes to a whole new world that I didn't even know existed or that I could be a part of.
My favorite hip hop era was definitely the 90's. It was so diverse and original. It allowed me to be myself – a tomboy. I was more of a tomboy for most of the '90s, until hip-hop and R&B took off and Bad Boy Records took over radio.
Do you remember that pivotal moment when you fell in love with dancing to hip-hop?
I started dancing at a house party when I was 8 years old. It was this song by Rob Base: "It takes two." I still remember that house party. It smelled super sweaty and full. I remember being just so scared and so shy.
I danced to the whole song until that song came on and I've never forgotten how it made me feel. Wherever the dance took me, and I felt that way, I just followed it. And when they started paying me, I was like, "Can I get paid for this?" I didn't go to college because I was touring.
So touring with stars was your version of college?
I want to know more about your work with these titans. What do you remember working with Mary J. Blige on her Good Morning Gorgeous Tour last year?
I'm a big fan of Mary J. Blige. So that I can grow up with their music, from "WWhat is the 411?" for the "My life" I tried to dance for her in all her albums – I cried every time. As for the work I did with Mary, I was also her body double on stage. Working with Mary is nothing more than empowering women. I felt so inspired and motivated to take on this job.
I know you worked with 50 Cent too – how was that?
I always tell people I don't work with 50 Cent; I work with Curtis Jackson. He was extremely respectful and appreciative of the women who danced on the job. Curtis Jackson takes care of his people. He's a good listener. He pays attention. He even knew the choreography in which he was not involved. He allowed me to grow in this job. The women there were very protected. He's just a darling.
That's amazing to hear. The industry is so busy violent behavior towards women, so I love that you can testify that 50 is a real value – and that treating women with respect isn't hard.
Yes. I felt like I had really evolved professionally and working with him was reminded of who I am, what my goals are and what my goal was.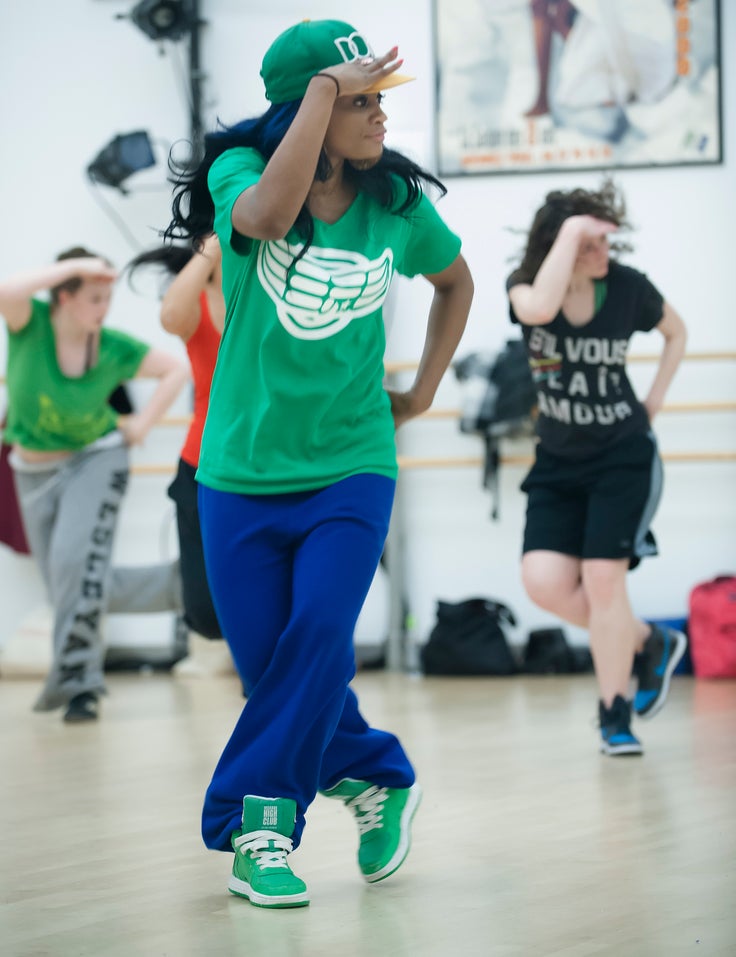 Okay, back to dance class. When you get students struggling with the moves, how do you get them to a better place?
I tell the students to just dance like we're at a party or a club. A lot of people don't grow up with music in their homes. Black and brown people learn to dance just by listening to music. Mostly they learn music and dance through black culture and I bring that into the class.
I try to ensure the atmosphere is non-competitive as these classes at Ailey are designed for amateur dancers who just want a new experience. When you trust yourself and are open enough to accept, "I'm not going to be perfect, but I'll try anyway."
"The bounce" and "a rock" are the foundation of the hip-hop movement. Once they understand that, I help create the mind-body connection that allows them to express feelings.
Hip hop music and culture has gone through many phases over the past 50 years. What do you think we could use more of in music today?
Vulnerability. I think when people make themselves vulnerable, they're doing their best in their creativity, and that's part of the culture. The older artists put everything into their music. We don't have enough of that. You can't lose yourself. That's what makes the character.
This interview has been edited for length and clarity.