News
'I think he's a toast': Watergate prosecutor says Trump case is 'so strong' now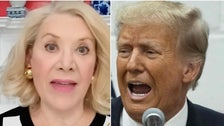 "The case is so strong. You can't imagine him getting away with it," she said on MSNBC on Sunday. "I'm carrying a toast pin today because I think he's toast."
Wine-Banks said she believes the grand jury had already heard that recording — and predicted it would be very damaging to Trump.
"There is nothing more compelling than listening to a defendant in a criminal trial utter words that show his criminality," she said. "And those words certainly show that he knew he had not released documents that he still kept."
She said Trump's only real game would be to claim he lied on the tape – but that probably wouldn't add up given all the other evidence against the former president.
For more posts on their discussion on MSNBC, see below: