I'm not afraid – Roberto De Zerbi is convinced he has nothing to fear at Brighton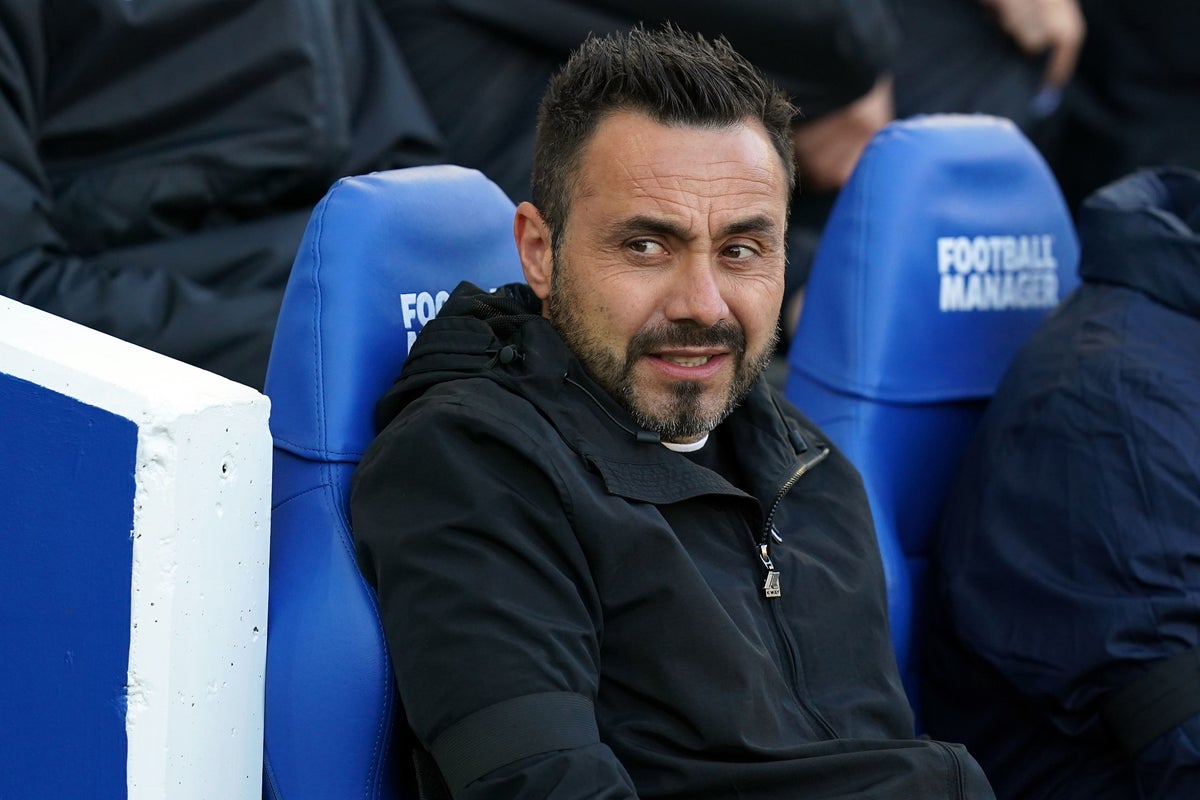 Brighton manager Roberto De Zerbi has said the war in Ukraine means he has nothing to fear in football after a frustrating goalless draw with lowly Nottingham Forest led to some boos.
Albion controlled the competition at Amex Stadium and hit the bar through Leandro Trossard but have been without a win since the Italian replaced Graham Potter four games ago.
Pascal Gross was denied a late win by a superb stop from Forest goalkeeper Dean Henderson before some of the frustrated Seagulls fans cheered the stalemate after the final whistle.
De Zerbi, who left his role as Shakhtar Donetsk coach after the Russian invasion, was pleased with the dominant performance but conceded his side needed a bigger attacking threat after three games without a goal.
"I enjoy very much (the performance); I'm sorry about the result," said De Zerbi, who scored two out of twelve possible points.
"I say the same words to the players. I say 'thank you' to the players for playing an amazing game.
"Okay, we have to improve in the last 25 meters and work on that. But that's all I can say.
"I stayed in the war for five days and I'm not afraid of football. Normally I'm sorry about the result, because in four games just two points isn't too much."
Brighton enjoyed 70 per cent possession and 19 shots on goal on Tuesday night, while Forest failed to record a shot en route to relegation from bottom of the table.
De Zerbi's difficult start in life in English football continues with a weekend trip to champions Manchester City before former Seagulls manager Potter returns to the south coast with Chelsea a week later.
The 43-year-old knows a quick upturn in earnings is needed.
"I don't know if we will see the result, but I know where we have to work," he said.
"I don't want to talk too much about bad luck or unfair results or things like that.
"I want to talk about the improvement that we need to make very quickly."
Forest moved a point and a place ahead of East Midlands rivals Leicester after doggedly digging in to take just a sixth point in what has been a difficult season so far.
Manager Steve Cooper welcomed a step in the right direction but insisted the result wasn't enough to make him jump for joy as he strives for further improvement.
"It was always going to be a tough game tonight," he said. "Brighton are a really good team. I know they changed coaches but they continued to play very well.
"That the players showed the resilience, will and spirit that they showed tonight was a good point in the end.
"If we had a few more points on the board and were a little further up the league, that would be a great point.
"Is that what we want to be tonight? no But there were signs. There is little progress.
"Don't get me wrong, there's a lot to improve, but the players really do a lot every day.
"I'm not going to jump away from here. That's a good point, of course, but I know there are still a lot of things we need to improve on."
https://www.independent.co.uk/sport/football/roberto-de-zerbi-graham-potter-nottingham-forest-dean-henderson-italian-b2205628.html I'm not afraid – Roberto De Zerbi is convinced he has nothing to fear at Brighton