News
In Heat Eaters, chef Esther Choi reinvents the hot girl summer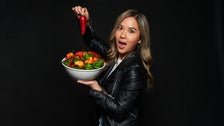 A soft blush crawls across the cheeks of chef Esther Choi as she takes her second bite of spicy tteokbokki at a restaurant in Koreatown, Los Angeles. However, she remains largely unimpressed in this first episode of First We Feast's new YouTube series Heat Eaters.
Choi continues to scoop the savory delight with her chopsticks as she explains to two friends the depth of the chilli sauce that's topping the fried rice cakes. The friends start sweating visibly. Choi fans her face out. It's too late now. They have all been deceived.
Choi is your fearless guide in this thoughtful spin-off of Hot Ones, in which we embark on a breathtaking taste tour of a different cultural enclave in each episode. Of course, she starts with the kitchen, which she knows very well.
While Choi now stands on the precipice of what I affectionately refer to as the "gochujang glaze empire," she started helping out in her family's kitchen as a child. "I started young and ate spicy food when I was about 4 or 5 years old," Choi tells me as we sip smoothies at a New York coffee shop. "I grew up making kimchi with my grandmother. It's hot for little kids. So it's something that was kind of built in."
She opened her first restaurant, Mŏkbar, in Brooklyn in 2014 and has continued to grow it from there. Eating at one of their restaurants is an overwhelming experience, especially if, like me, you grew up loving bold flavors. I often daydream about the small bowls of kimchi that come to the table—daikon, cucumber, and the classic bok choy—and blatantly glisten in a salty spice mix. Each bite brings out flavors that unfold second by second, underlined by a kind of spiciness that combines every note of sweetness, acidity and umami.
"Risk takers," says Choi when I ask her if there's a "type" of people who loves spicy food. "It's people who have that free spirit or are willing to try different things. I think you have to be a little fearless and open your mind to it and then your body just adapts."
I understand what Choi means here, but her words have a deeper impact. It's both beautiful and poignant when this fellow immigrant child speaks to me about taking risks and being brave. I remember my family's small kitchen in New Jersey, where hearty dinners of daal and rice were punctuated by delicious dollops of tangy mango achaar — perhaps the Indian version of kimchi. My parents, tired of working and cooking and creating a world for my little brother and I that would allow us to dream bigger than they ever could, taught me to love warmth. But they also gave me a fearless heart and a thirst for adventure.
And so, while Heat Eaters is the fun, cute cousin of the revolutionary Hot Ones, it occupies a different place. It's an exploration of culture, customs and the fact that what we eat is inevitably a reflection of who we are. Choi tells me that each episode uses spicy food as a vehicle to learn about communities that we may not be familiar with. "I'm going to explore as many cultures and as many spices as I can on this show," she says. "That way you automatically learn about the culture, even if that wasn't the plan. We don't want to force it on people. That's not me and it's not a stuffy show."
how could it be Hot Ones viewers know from years of devouring the series that watching people squirm and sweat from eating spicy food while trying to carry on a conversation is hilarious and somehow relatable . In addition, there is an undeniable vulnerability. "It's the bond that forms when two people enjoy spicy food together," she says. "This emotion is so real on camera because we actually eat and experience it together – and die together. And I think it breaks the ice."
Spices break barriers, folks. The man would not have stumbled upon present-day American soil if spices were not vital to human existence. But that's a cultural story for another time.
Ultimately, the appeal of Heat Eaters lies in Choi's authentic reverence for food – and experiences, moments and people – that makes us feel extraordinarily alive. And she wants us all to be part of it. "Start off mild. Or start where you can," she tells all chili newbies looking to add some spice to their plates. "Don't try to get aggressive because that would discourage you from cooking more or eating spicy food. That's not the point—spices bring out all the other elements of the dish. Know what your body can take and go slow."
That's wise advice, but anyone watching the show will be tempted to be a little brave. And the hell with the stomach lining, I want that for all of us.
Heat Eaters is produced by First We Feast, which shares a parent company, BuzzFeed Inc., with HuffPost.