News
Insider reaches agreement to end longest strike in digital media history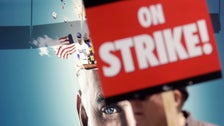 The Insider Union has reached an interim settlement with management of news site Insider, ending the longest strike in digital media history, the union's bargaining unit announced on Wednesday.
"Our strike is over – we're going back to work tomorrow!" read a tweet from the account of the unit, which consists of about 250 people.
Insider employees, organized by the NewsGuild, have been on strike for 13 days. Negotiations with site management broke down after more than two years of negotiations over higher healthcare costs, minimum wages and various other working conditions.
The three-year deal they signed on Wednesday includes a minimum salary of $65,000, immediate pay rises for most unit members, a moratorium on layoffs until the end of 2023, a "justified" requirement to discipline employees and a commitment from management to more than 400,000 US dollars reimbursement of healthcare costs over the term of the contract. The preliminary treaty now goes to the full unit for a vote on ratification.
"The deal we won today shows the power of solidarity," Insider Union negotiating committee member Dorian Barranco said in one opinion. "We came together and refused to settle for less than we were worth, and our collective power won a contract that will resonate with newsrooms across the country. It's never an easy decision to go on strike, but today's win proves it was worth it. We are excited to get back to work with our new achievements."
A major point of contention during the negotiations was the increased healthcare costs. Last November, the NewsGuild filed a complaint alleging unfair labor practices against insiders with the National Labor Relations Board, which the complaint in May found well founded. The complaint alleged that management had unlawfully changed workers' health insurance, resulting in higher costs for unit members.
So far, striking employees have encouraged their readers not to cross the digital picket line by visiting Insiders or clicking on any of the stories on the site. Those non-union employees who remained on the job recycled and published old stories unfinished Contents.
Eventually it was Insider Editor-in-Chief Nicholas Carlson captured on film Bike through Brooklyn, New York, pedal and ride pro-union leaflets that got him on the scene with the headline "Have You Seen That Millionaire?"