News
Interview with Ramaswamy gets awkward as he dodges Trump question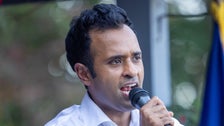 Republican presidential candidate Vivek Ramaswamy had an awkward moment on MSNBC Wednesday night when he appeared unable or unwilling to explain his past criticism of Donald Trump.
Moderator Mehdi Hasan asked Ramaswamy about a tweet calling out Trump's actions on January 6, 2021: "downright abominable' he wrote a week after supporters of the then-president attacked the US Capitol to block certification of the electoral vote that made Joe Biden the next president.
Hasan asked Ramaswamy to explain what Trump had done that day, which he thought was "completely heinous".
He did not answer despite being asked repeatedly.
"You're avoiding my question," Hasan asked after the first attempt failed. "What do you think Donald Trump has done 'downright heinous'?"
"No, I'm not dodging your question," Ramaswamy said, then dodging the question.
"If you're not scared of him, why don't you say what he did that was 'downright heinous'?" Hasan asked. "It's a simple question. It's your words. It's on the screen."
Ramaswamy was cautious when speaking about Trump, often praising and promising him pardon him if he is elected. He also said he would offer the former president a seat in his own administration should he win the presidency in 2024.
Trump retaliated by praising Ramaswamy.
"Everyone who said I was the best president of a generation… I have to like a guy like that," he told Glenn Beck last month, saying Ramaswamy would be "very good" as a possible candidate for the candidacy.