News
Jake Tapper can't hide his dismay at Joe Biden's poll numbers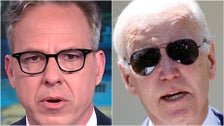 CNN host Jake Tapper twice used the word "terrible" to describe President Joe Biden's poll numbers on Thursday — and "The Lead" host interjected "bad" to refer to the incumbent's perceived impact on the country rate if re-elected. (Check out the video below.)
"Terrible news, terrible for Joe Biden in our new CNN poll," Tapper said, referring to The results were released earlier that day. "While the President leads his Democratic competitors by a wide margin, two-thirds of all Americans polled, 66% of the public, say a Biden win would be either a setback or catastrophe for the United States."
"When it comes to how voters view Joe Biden and another term as president, I think those are some bad numbers," the CNN host noted.
CNN political director David Chalian painted a bleak picture of Biden's eligibility. He found that 41% of Americans said it would be a "disaster" if he won, and another 26% said it would be a "setback," according to the poll. Biden's appeal to independent voters has also diminished — a "red flag," Chalian noted.
Not that the Democratic president's biggest Republican rival for 2024, former President Donald Trump, has fared much better. According to the poll, 44% said a victory for Trump would be a "disaster," while 12% said it would be a "setback."
Tapper's reaction was reminiscent of George Stephanopoulos' unfiltered analysis of a current situation ABC/Washington poll showing that Biden was trailing Trump in a general election. The data suggested that a Trump victory would likely be favored by people who think Trump should be criminally held responsible for his efforts to overturn the 2020 election but would still vote for him.
"This poll is just brutal for President Biden," Stephanopoulos said on ABC's This Week earlier this month.
"I have to admit I'm having a hard time understanding that," he added.