News
Jan. 6: Capitol attacker who beat police officers and took Riot Shield away is sentenced to nearly three years in prison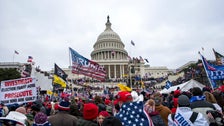 A New York man who punched a police officer and took a riot shield during the attack on the Capitol on January 6, 2021 was sentenced to nearly three years in prison on Friday.
Jonathan Munafo, 36, faces 33 months behind bars and 36 months of supervised release after pleading guilty in April to two felony counts of assaulting, resisting or obstructing certain officers and rioting.
According to the Justice Department, on the day of the attack, Munafo cheered along with other rioters as they tried to breach the Capitol in Washington.
"He used two different stakes to hit the window of an office in the Capitol approximately 13 times," he said The DOJ said this in a press release. "Munafo often looked back at the crowd, shouting and chanting, trying to incite the other rioters."
Later that afternoon, Munafo punched a Metropolitan Police Department officer twice before grabbing him with his shield.
"Munafo's second punch appears to have caused the officer's head to be thrown backwards," the release said. "Munafo then took the officer's shield and sneaked away into the crowd, leaving the officer without a shield and vulnerable to attack from other rioters."
Munafo is among more than 1,100 people charged for their involvement in the unrest.
Several members of the violent neo-fascist Proud Boys gang were recently sentenced to years in prison in connection with the attack. Henry "Enrique" Tarrio, the group's former chairman, received the longest prison sentence ever on Jan. 6 when a judge gave him 22 years in prison earlier this month.