Jazz Fest: A New Orleans Story Review: Riding the line between celebration and commercialization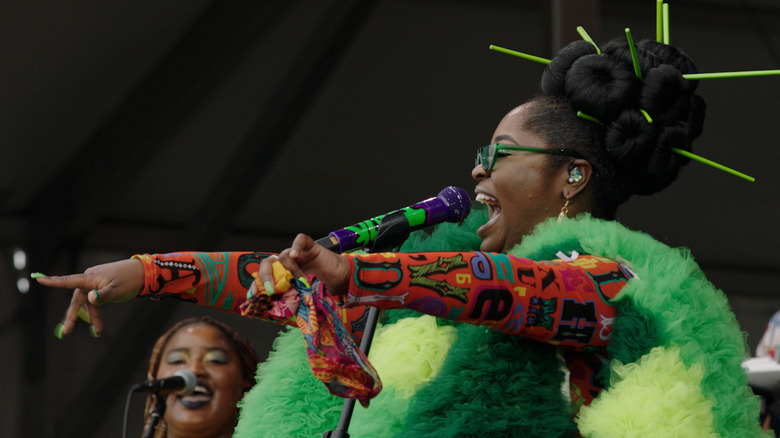 We live in a seemingly never-ending age of musical documentaries. Over the past decade, everyone from Billie Eilish to Linda Ronstadt to A Band Called Death have had their stories captured on film. This year alone pictures of David Bowie, Jennifer Lopez, Kanye West, Sinéad O'Connor, Olivia Rodrigo, Dio, Sheryl Crow, XXXTentacion, Tanya Tucker, Nick Cave and the New City music scene have been seen. York in the early 2000s. I wouldn't be surprised if there were movies I left out there. Frank Marshall and Ryan Suffern, co-directors of "Jazz Fest: A New Orleans Story," even made documentaries about The Bee Gees and the Carole King and James Taylor collaboration, both of which were released in the ring. past two years. Music documentaries are inevitable.
What makes this overwhelming saturation even sadder is how uninteresting these films are in delving into their subject matter. Most movies are simply pure advertising for the artists, as you'll often see the musician listed as one of the film's producers. They relay a paper-thin biography, interview other musicians about how great the subject is, spark a series of controversies or troubling times, and include a healthy amount of performance. for fans to follow.
"Jazz Fest: A New Orleans Story" doesn't follow a single musical artist, but instead is a typical American music festival. The New Orleans Jazz and Heritage Festival has been a staple of the city since 1970, when it was created by George Wein to create his own birthplace of jazz Newport Jazz Festival. While the picture theoretically includes a festival and a city ripe for exploration in terms of all the different and man-made sounds there, "Jazz Fest: A New Orleans Story" is based on tiresome music documentaries and give us a surface-level advertisement for the festival. It's a somewhat effective commercial, with countless electro-music performances recorded during the festival's 50th year in 2019, but the film is by no means intended to examine commercialization and popularity. transform a culture the festival is meant to showcase to the point where Katy Perry could be a celebrity, performing a mashup of "Firework" and the classic gospel song "Oh Happy Day."
The Joy of Performance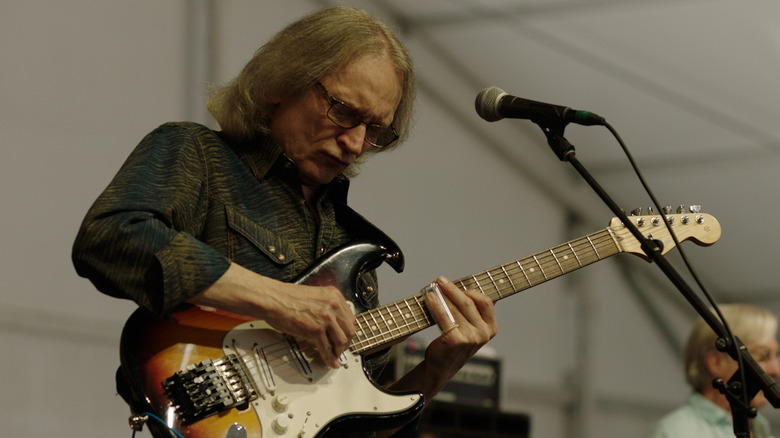 Whether it's "Woodstock," "Monterey Pop," or "Summer or Soul (…Or When the Revolution Can't Be Televised)," the main draw of any documentary like this is that showcases many musical talents performing in an environment you envy that you didn't attend. At this level, "Jazz Fest" succeeded. When Earth, Wind & Fire releases the disco classic "September," you can't help but smile and tap your toes along. Maybe you even lip sync. Why not?
But even greater fun is seeing smaller acts and people you might never have heard of before drawing crowds of the same size that a group like Earth, Wind & Fire would have. Okay. It's part of the fun of being at a music festival. You can see jazz legend, Herbie Hancock, on one stage and step over to see Nigerien assouf rocker Mdou Moctar on another. There are marching bands, gospel choirs, jazz quartets, and even a group playing in the middle of a children's carousel. "Jazz Fest" wisely devotes a fair amount of time to these artists, many of whom are New Orleans locals, giving the film a much-needed glimmer when they appear. A personal favorite is a performance by Tank and Bangas, a group that blends funk, hip-hop, lyric and rock all in one. They are creative, eclectic and fun, completely personifying the city they come from.
It's when the film shifts its focus to the main action that it loses direction, withdrawing itself from the homegrown musical spirit the film instills. Jimmy Buffett, who is also the film's executive producer, has been a mainstay at the New Orleans Jazz Fest, and festival producer Quint Davis regularly credits Buffett as the driving force behind attending the biggest festival, thanks to his loyal parrot-head followers. Now, I have nothing against Jimmy Buffett. As someone who grew up in Florida, I can't forget his music in my youth, and "Volcano" is my all time favorite. But this is not the man you want to be the scarecrow for at a jazz festival. The event celebrates a predominantly Black culture in a predominantly black city, and the indispensable one is a white guy in a tight, palm tree T-shirt singing about food. cheese sandwiches? He's also the only artist to perform more than one in the series, including the finale.
And didn't even get me started with Pitbull.
Music as a common language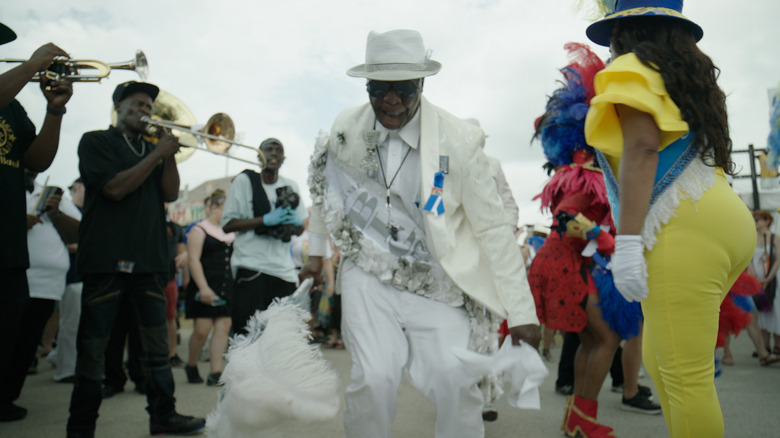 Aside from performances and sometimes archival footage, this is a film overloaded with talking heads from dozens to dozens of musicians. When they don't tell you how great the food in New Orleans is (Note: don't watch this when you're hungry because… good lord, does the food make your mouth water), nearly everyone Everyone speaking in front of the camera here comes up with the idea of ​​music as a lingua franca, and they repeat this sentiment over and over again. That's pretty hard to argue with. A certain set of notes, chords, and melodies can transcend culture, race, language, age, gender, or other things that people identify with. Listening to music is an intuitive experience and you never know what will affect you.
What bothers me about the message of "Jazz Fest" is that the New Orleans Jazz and Heritage Festival should be a place for the community to celebrate its own culture, and that idea seems to have increasingly segmented during its 50 years of existence. You compare audience footage from the festival's early years with those shot in 2019 of the film, and the crowd is getting whiter and whiter, as are the groups on the main stage. I don't want to knock out all the audience, who are clearly enjoying themselves, or the musicians performing their art at the peak of their abilities. I dismissed the documentary for not just skimming this but skipping it entirely. In the opening sequence of the film, Jazz Fest founder George Wein explains that he was initially approached to start the festival in 1962 but was unable to do so because Jim Crow laws prevented music from being held. Black and white musicians perform together. There are no comments on this issue. We just jump straight to 1970, when the festival started.
The film is considered "A New Orleans Story." Although there are brief segments of the city's history, this is a film that celebrates only one thing, and that is the festival itself. It wants to be an uncomplicated space where people can come and have a good time during a week of music and food, but the history of people, culture, race and art is anything but not complicated. When you watch these people perform their music on stage with excitement, faith and joy, it can be a wonderful thing. That's when they turn the camera away from the stages that you find empty.
"Jazz Fest: A New Orleans Story" is available now on Blu-ray and digital.
Continue reading: The best movies of 2022 so far
The post Jazz Fest: A New Orleans Story Review: Riding the Line between Celebration And Commercialization appeared first on / Film.
https://www.slashfilm.com/1056060/jazz-fest-a-new-orleans-story-review-riding-the-line-between-celebration-and-commercialization/ Jazz Fest: A New Orleans Story Review: Riding the line between celebration and commercialization