News
Jen Psaki accurately predicts when and how Biden will issue Trump impeachments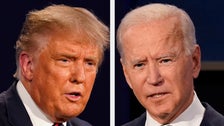 Don't expect President Joe Biden to speak out about the indictments against former President Donald Trump any time soon, MSNBC's Jen Psaki said this week.
"In my opinion, it would hurt them if the President aggressively commented on the details of these processes and all these developments," former Biden White House press secretary told political commentator Brian Tyler Cohen on the latest episode of his podcast.
"It makes it politicized, doesn't it? I know Trump and his people will argue that, but Joe Biden doesn't need to interfere at this point," Psaki said.
However, Psaki acknowledged that "we're still in the summer of impeachment," saying that Biden's campaign "must find a way, and they will find a way," to deal with the allegations against Trump if the 2024 election is a rerun from 2020 be.
"There has to be a value argument, a contrasting agreement, and I think that's what it's about," she said.
"I don't think he's going to press charges," Psaki added of Biden, indicating he would speak more about the need for a president who champions the rule of law and democracy.
Biden's comments would "obviously address the legal issues without relating to the legal issues," she added.