News
Jets great Joe Namath destroys flopping quarterback Zach Wilson in a brutal takedown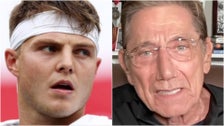 Hall of Fame New York Jets quarterback Joe Namath didn't miss an opportunity to eviscerate current quarterback Zach Wilson on Monday.
Namath, who led the Jets to the 1969 Super Bowl title in their only appearance as quarterback, was quite forceful in his criticism of Wilson.
He called Wilson's play "disgusting" and suggested the team "send him to Kansas City to play someone like him." [Patrick] Mahomes maybe. Maybe he would learn something."
"I wouldn't keep him," Namath told host Michael Kay on ESPN New York Radio. "I've seen enough of Zach Wilson, okay? I've seen enough."
Namath, 80, laughed at Kay's question about whether Wilson was "out of his depth."
"I'm just saying I don't believe in him," Namath snapped. "I don't think he has a future as a good player and I think they made the wrong choice when they signed him."
Namath was also angry about head coach Robert Saleh's continued support of Wilson and appeared to join general manager Joe Douglas in calling for his firing.