News
John Oliver reveals joke that got him fired from his first TV gig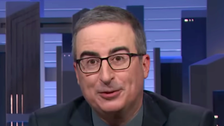 John Oliver's illustrious comedy career apparently hasn't been exactly smooth sailing.
"The first joke I ever saw on TV got me fired," Oliver said in this week's episode.Strike Force Five"Podcast with late night hosts Stephen Colbert, Jimmy Fallon, Seth Meyers and Jimmy Kimmel.
The British-American comedian said he worked on "The Big Breakfast," a British morning television show that ran from 1992 to 2002.
The offending episode featured a guest appearance by Tatyana Ali, who was then starring as Ashley Banks in The Fresh Prince of Bel-Air.
"They wanted to do a little bit of something by having an emergency glass panel in case they ran out of ideas and questions," said Oliver, now host of HBO's "Last Week Tonight." "So everyone just wrote a whole bunch of jokes… the host picked one of them."
"And I wrote a question that said, 'Obviously the Kosovo war isn't going well.' It doesn't look like airstrikes will be enough. Would you send ground troops?'"
"And the chance of it being discovered was really, really slim," he continued. "And he picked it out, he started reading it, and my blood just ran cold."
When they saw it on the live feed, Oliver said, his fellow writers knew he was going down. "You're completely screwed right now," he was told.
In Oliver's memory, the guest had a look of "panic" on his face and said something along the lines of, "Uh, I don't know, I wasn't expected to talk about it."
Oliver and his four late-night competitors have teamed up for the weekly podcast to support unemployed employees during the Hollywood strikes.
Listen to Episode 4 of "Strike Force Five" below.