News
Justin Timberlake and Megan Thee Stallion go viral with backstage chat at MTV VMAs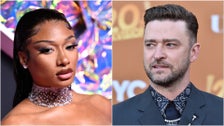 That's because a backstage video from the event showed the two artists having an animated conversation after Timberlake reunited with his *NSYNC bandmates on stage. Meanwhile, Megan prepared for her performance with Cardi B.
Although the volume isn't great in the video below, Timberlake appears to have said something that upset Megan.
Although many people on social media assumed there was an argument, Entertainment tonight reported that it appears to be the opposite.
Citing unnamed sources, ET said that Timberlake told Megan, "It's so nice to meet you," and she replied, "No, no, that doesn't count, that doesn't count, we need to meet properly."
Another source told ET that Megan is a fan of Timberlake and that "it was their first meeting and she was excited."