News
Kevin McCarthy: 'Don't give up' on debt ceiling talks, but no sign of progress
House Speaker Kevin McCarthy (R-California) said the recent meeting with the White House on the need to raise the government's borrowing ceiling had been productive, although he was pressured for concrete signs indicate for progress.
"We're getting closer. Don't give up on us," he admonished reporters early Monday evening in the US Capitol.
McCarthy had his third in-person meeting with President Joe Biden in less than two weeks as the White House and congressional Republicans try to figure out a way to avoid a default on the government's AAA-rated debt or other bills due to the Leaving the Treasury unpaid no longer has a loan room.
Given the U.S.'s impeccable credit rating and the dollar's role in the global economy, a default on debt or other obligations would result in an economic crisis, economists say. Republicans want to force spending cuts and other policy changes in exchange for lifting the debt ceiling.
However, it was difficult to find common ground. The White House says its budget, released in March, would cut the 10-year deficit by about $3 trillion through a combination of spending cuts and tax hikes. However, there was no vote on this budget.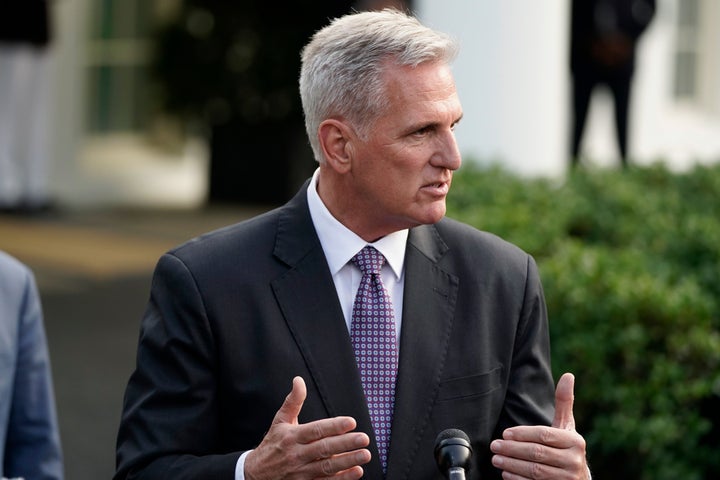 Republicans in the House of Representatives narrowly passed a debt limit bill that would reduce the net deficit by about $4.8 trillion over 11 years. However, that number would be met by strict budget caps that would make it very difficult for federal agencies to pass annual spending accounts. Several Republicans said the bill was intended as an inaugural bid rather than a final offer.
The gap has been difficult to bridge and is only getting harder as the clock approaches early June, when Treasury Secretary Janet Yellen said there was a risk of a default. The default could occur as early as June 1, she said again in a letter to the legislature On Monday.
McCarthy was asked why he was optimistic, particularly after one of his deputies who attended the meeting, Rep. Patrick McHenry (RN.C.), said he felt no urgency from the White House. The speaker replied, "I don't think we would agree to talks if we felt they weren't productive and we couldn't reach an agreement."
"We just talked about where our differences were. We talked about ideas. So we are asking the staff to come back and go through these ideas to see if we can come to an agreement."
In a succinct three-sentence statement after the meeting, Biden also called the talks productive but acknowledged that there were "areas of disagreement."
"We reiterated that default is off the table and the only way to move forward is to reach a good faith bipartisan agreement," he said.