News
King Charles poses for new portrait with Prince George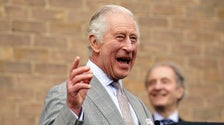 King Charles III celebrates his newly crowned self – and his loyal family.
The British royal family shared a new photo of the monarch on Instagram on Friday, taken on Coronation Day, showing his son Prince William and grandson Prince George. In the picture, Karl is dressed in royal robes, seated – and crowned.
William notably recited the tribute of royal blood at the coronation – pledging his loyalty to the king as a "liege man life and limb" – while 9-year-old George took a key role in the ceremony, serving as one of royal sides.
"I, William, Prince of Wales, pledge my allegiance to you." said William at the coronation"And I will bring faith and truth to you as your liege man in body and life." May God help me."
The Royal family posted another photo on Friday This included all eight of the king's "pages of honor and ladies present" which included Queen Camilla – who wore the crown and estate robe of Queen Mary.
According to Variety, The coronation attracted more than 14 million viewers on BBC and more than 8 million viewers on Sky News.