News
Kristen Bell Opens Up About A Painful Ju-Jitsu Injury Her Daughter Inflicted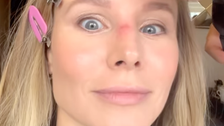 Kristen Bell said she "pulled some teeth in her nose" during a ju-jitsu session with her 8-year-old daughter Delta.
"You should see the other one!!!!" the "Frozen" star joked on Tuesday on Instagram.
Bell has shared videos and photos of her injury online.
She assured fans, "Will recover."
Bell's post prompted followers to recall her own painful incidents with her children, including one in which her nose was broken after her 18-month-old threw her head back in a fit of rage.
Let's hope, though, that Bell hasn't asked her husband Dax Shepard for treatment.
In 2022, Bell revealed to late-night host Jimmy Kimmel that Shepard likes to be his own doctor. She recalled catching him trying to remove a damaged toenail with an industrial Dremel. She convinced him to swap it out for a smaller tool that she uses on her nails. "He likes to do it himself, he's a (real) handyman when it comes to medical stuff," Bell said at the time.