News
Lady Gaga shows her support for trans rights in powerful 'Born This Way' performance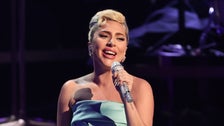 Lady Gaga sat behind her piano at a performance of her LGBTQ+ anthem "Born This Way" in Las Vegas last week and showed her love for the transgender community.
The singer-songwriter, who opened this year's leg of her jazz and piano residency on Thursday, revealed she had "something to say about trans rights" in America, before fans erupted in cheers.
"If you have something to say, you have to speak up, all right," Gaga said as she began the piano version of her 2011 hit.
The singer-songwriter, a longtime supporter of the LGBTQ+ community, later paused mid-performance to add to her comments.
"And you know, sometimes you hear people say things like, 'I don't always know what to say,'" Gaga noted.
"Just listen. Don't say anything. Listen. Listen to real people's real life stories."
She went on to highlight the song's line: "It doesn't matter if it's gay, straight, bi, lesbian or transgender life. I'm on the right track baby, I was born to survive."
Her comments also come as rock musicians like Carlos Santana and Alice Cooper have come under criticism for anti-trans comments in recent weeks.
Gaga has championed the transgender community on a number of occasions, including in 2017 when she overturned former President Donald Trump's now-overturned military ban on transgender people.
"The message you just sent has endangered the lives of people across the United States and abroad who are bravely serving our nation @POTUS." She wrote on X (formerly Twitter) after Trump announced the policy.
The singer later commented via a memo leaked by the New York Times the following year, which detailed a Trump administration plan to change the legal definition of gender.
"Government may live in an alternate universe, but as a society and culture, we know who we are and know our truth, and we need to stand together and speak out so we can educate them about gender identities." #TransRightsAreHumanRights #WontBeErased," she wrote on X.
She added: "Even if you feel unheard or unseen today, know that this is not the reality of humanity. This is further evidence that leadership is fueled by ignorance."