News
Late-night hosts are teaming up for a podcast — and proceeds go to their unemployed co-workers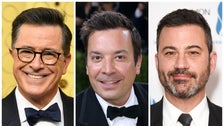 If you're missing rehearsed celebrity interviews, satirical news commentary, or a delightfully clumsy sidekick named Guillermo, an upcoming podcast could solve that problem.
"When the WGA strike began in May this year, this elite group of suddenly unemployed talk show hosts rallied over the wonder of Zoom," reads the press release detailing the podcast's origin story. "Their idea was to meet every week to discuss the serious problems that a work stoppage brings. What happened instead was a series of hilarious and engaging conversations."
While discussions of the WGA strike may seem more niche than constant lashing out at Donald Trump and his ilk, simply listening could do a lot to help any show's staff. Proceeds from the podcast go to employees of the host's respective shows who are currently unemployed.
Of course, there are other ways you can support the thousands of unemployed writers and their peers by joining a picket line or contributing to strike funds (believe it or not, Canceling Netflix is ​​not a recommended option). But now you can listen to a podcast too!
The podcast launches Wednesday — and if you're interested in a sneak peek at what the podcast will be like, Kimmel shared an excerpt on X, formerly Twitter, below. Unfortunately, no Guillermo is included.