News
Lauren Boebert says she "really" doesn't remember vaping during the "Beetlejuice" musical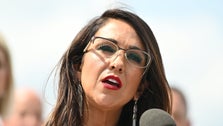 DENVER (AP) — Republican Rep. Lauren Boebert apologized Friday after receiving kicked out at a musical performance in Colorado last weekend for disruptive behavior and then falsely denying that she had smoked.
The apology came a day after surveillance video surfaced showing Boebert vaping at her seat at a Denver movie theater. Her campaign previously disputed the theater's claim that she smoked.
The usually combative Boebert said in a statement Friday that her actions were not intended to be malicious or cause harm, "but the reality is that they did."
She was kicked out of the musical "Beetlejuice" last Sunday after audience members complained that she and another guest were smoking, singing, using phones and causing a disturbance.
As the lights were still on and people around Boebert were seated, surveillance video showed her putting her hand to her mouth and then blowing out a cloud of steam. After the lights went out, the footage showed Boebert dancing in her seat and flashes of her phone as she held it up and appeared to take photos of herself during the performance.
Two days after the incident, Boebert posted on social media: "It's true, I thoroughly enjoyed the AMAZING Beetlejuice at the Buell Theater and plead guilty to laughing and singing too loudly!"
Boebert noted in her statement that she was going through a divorce and said her behavior was unacceptable.
"I honestly didn't remember vaping that night when I spoke to my campaign manager about the night's events," she said. "We understand what that looks like."
In her relatively short time in Washington, Boebert built a national profile and aligned herself with the far right wing of the Republican Party. Her assertive style made headlines in the media, especially as she mocked President Joe Biden during his 2022 State of the Union address.
She is in her second term in Colorado's 3rd Congressional District, covering most of the western half of the state.
The city-owned Buell Theater did not name Boebert when it released surveillance video clips that showed the congresswoman and her companion being escorted from the theater by staff.
During the confrontation, the two made comments such as "Do you know who I am" and "I'm going to contact the mayor," according to theater representatives.
The two guests initially refused to leave the venue, even after an employee threatened to call the police, the theater said. When a police officer was on the way, the two left, the theater said.
Brown reported from Billings, Mont.
Jesse Bedayn is a corps member for the Associated Press/Report for America Statehouse News Initiative. Report for America is a nonprofit national service program that places journalists in local newsrooms to report on undercovered issues.