News
Looser dress code in Senate sparks excitement among Republicans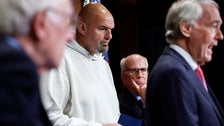 Republicans are upset over a new dress code from Senate Majority Leader Chuck Schumer (D-N.Y.) that will allow senators to wear whatever they want on the Senate floor.
The new policy is expected to come into force this week, it is said Axiosand will no longer require members to wear coats or business attire in the upper chamber, an informal rule enforced by the Senate Sergeant at Arms.
"Senators can choose what they wear in the Senate. "I will continue to wear a suit," Schumer said in an interview opinion.
The policy allows Sen. John Fetterman (D-Pa.), who often wears a hoodie or short-sleeved shirt along with shorts in the Capitol, to enter the Senate chamber and vote in the well along with other senators. The Pennsylvania Democrat, who suffered a stroke in 2022, casts his votes by sticking his head through the Senate doors.
However, the new regulations do not apply to employees and external visitors.
Several Republican senators complained about the change on X, the social media site formerly known as Twitter.
"It's just not that hard to wear a jacket and tie," wrote Sen. Mike Lee (R-Utah). "Pants are also a must – not optional."
Sen. Markwayne Mullin (R-Okla.) said "of course" the policies were changed to accommodate Fetterman, adding that he was being "totally disrespectful" by not wearing a suit in the Senate.
"I don't prefer wearing a suit more than anyone else, but it is the respect for the position that we must uphold," Mullin said during a hearing interview on Fox News.
Senators typically wear more casual clothing at the Capitol when they are not in the Senate or on days when they travel between D.C. and their home states. Some Republican senators have been known to vote in gym or basketball gear without actually setting foot on the floor.
Fetterman responded Monday to another GOP critic — Georgia Rep. Marjorie Taylor Greene — with: refer to a hearing in which the congresswoman appeared to display sexually explicit images of Hunter Biden, President Biden's son.