News
Louisiana Tech's Brevin Randle steps on the opponent's neck after the game and is suspended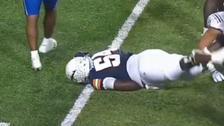 Louisiana Tech linebacker Brevin Randle kicked a defenseless player in the head and neck in a game last weekend, resulting in this an indefinite ban from the team. (Watch the video below.)
Randle sparked outrage when video of the incident went viral over the weekend. In Tech's game Friday against host University of Texas at El Paso, the linebacker slammed his body into UTEP's offensive lineman Steven Hubbard, who was already lying on the field and in obvious pain. Randle then raised his cleat and smashed it into the back of Hubbard's head.
"A pretty dirty play at the end," the broadcaster said upon watching Randle's performance.
"In speaking with Brevin, he admits his action was wrong and understands the consequences of that action," Louisiana Tech athletic director Eric Wood said in a statement Saturday. "Our university, athletic department and football program believe in culture, class and competitive excellence, and that was not shown in any way in this moment."
HuffPost reached out to UTEP for an update on Hubbard's health and perhaps comment.