News
Maggie Haberman discovers surprising "confession" from Trump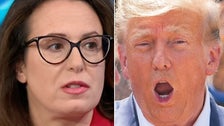 New York Times reporter Maggie Haberman said Donald Trump's comments to Megyn Kelly on Thursday surprised at least one person close to the former president.
"That was a surprisingly frank statement that a person associated with him described to me as a 'confession' about an hour ago," Haberman told CNN's Anderson Cooper.
She was referring to Trump's response to a question about the impeachment inquiry against President Joe Biden, in which he not only suggested that it was in retaliation for his own impeachment proceedings, but also suggested that they had just begun.
"I think if they hadn't done this to me… maybe it wouldn't have been done to them," Trump told Megyn Kelly, then went a step further: "And that will happen with impeachments, too."
Haberman said some Republicans are worried the inclusion could hurt the party in next year's elections.
"People were hoping that he wouldn't say that explicitly in the context of this Biden impeachment inquiry because it makes it seem like it's less level," she said. "It makes it harder for Republicans who get drawn into this thing to sell it in districts that are more centrist-leaning."
See more of her discussion with Cooper below: