Marlie Packer leads England in World Cup tie against South Africa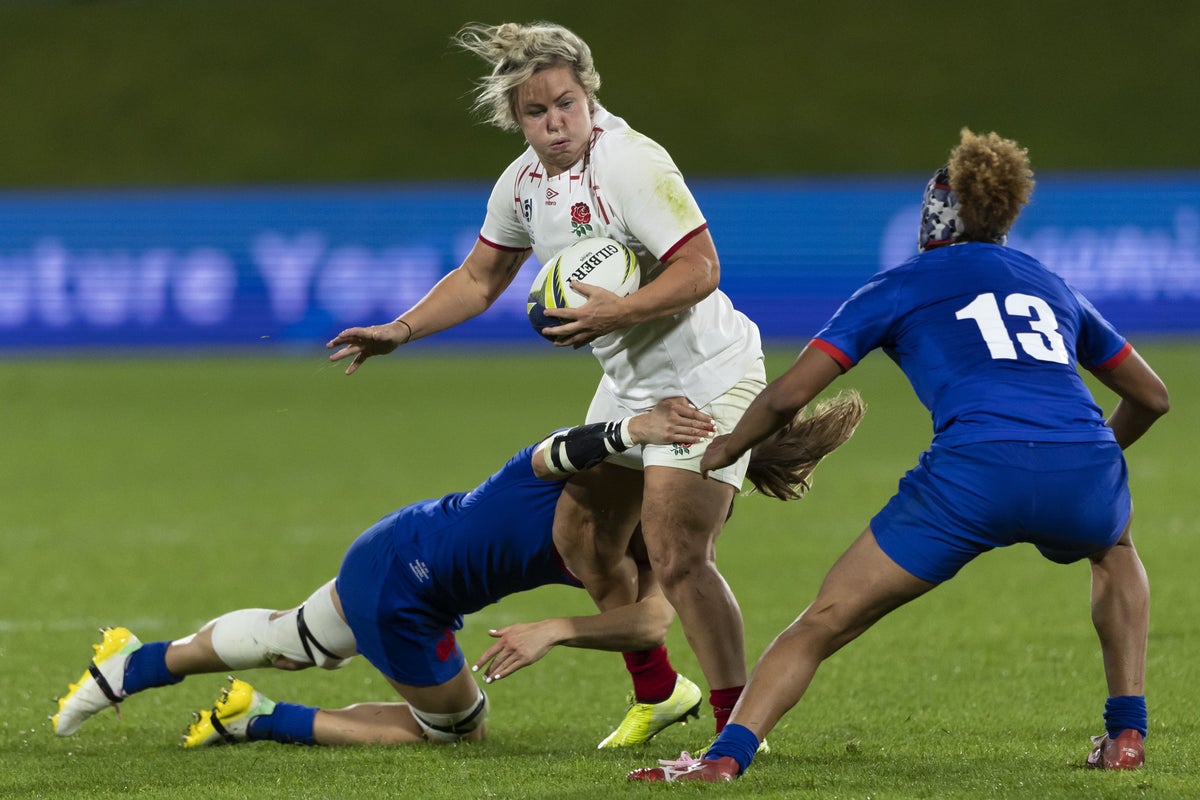 Marlie Packer will captain England for the first time in Sunday's Rugby World Cup Pool C clash against South Africa.
The flanker, who was world champion in 2014, will sit in the back row alongside Poppy Cleall and Morwenna Talling.
Fly-half Zoe Harrison becomes vice-captain of head coach Simon Middleton's side.
England will look to extend their world-record run of 27 consecutive Test wins again after beating Fiji 84-19 and trailing France 13-7.
Middleton's side have a chance to seal first place in Pool C and the cheapest route to the knockout stages.
"Marlie is a world-class player, a hugely popular member of the group, providing support on and off the pitch and playing a huge role in driving the team," Middleton said.
"I know the entire player and staff group is delighted that they are leading the team this week and they are very proud too.
"I was very happy with the performance against France. We dominated large parts of the competition and I felt that the score didn't reflect the game as a whole.
"We know we need to be more sober going forward but our game management was world class, we hardly glanced at France and the way we finished the game showed all the composure we expect from the team .
"The game against South Africa is an extremely important game as it dictates our passage and path to the quarter-finals.
"It is also the first time that the majority of our starting XVs will be competing in a World Cup match, which needs to be celebrated individually and collectively. We are all very excited to see how they are doing."
England meet South Africa in New Zealand on Sunday: S McKenna (Saracens), A Dow (Wasps), H Aitchison (Saracens), T Heard (Gloucester-Hartpury), J Breach, Z Harrison (both Saracens), L Packer (Harlequins) , H. Botterman (Saracens), C. Powell, M. Muir (both Gloucester-Hartpury), R. Galligan (Harlequins), C. O'Donnell, M. Talling (both Loughborough Lightning), M. Packer, P. Cleall (both Saracens) . Subs: A Cockayne, V Cornborough (both Harlequins), S Bern (Bristol), Z Aldcroft (Gloucester-Hartpury), S Kabeya (Loughborough Lightning), L Infante (Saracens), E Scarratt, H Rowland (both Loughborough Lightning).
https://www.independent.co.uk/sport/zoe-harrison-south-africa-england-poppy-cleall-france-b2207384.html Marlie Packer leads England in World Cup tie against South Africa