News
"Master Of Puppies": Metallica accompanied by sneaky "four-legged fan" at the concert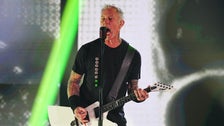 Metallica is gifting a pawsome concertgoer after a dog snuck into one of their concerts at SoFi Stadium last weekend.
The heavy metal band said in a Facebook post Thursday that "a four-legged fan" had joined the crowd at a show in Inglewood, California.
"Despite reports to the contrary, our friend Storm snuck out of her house next to SoFi Stadium and made her way to the gig all by herself," the band wrote.
The Animal Hope & Wellness Foundation, a local animal welfare organization, initially reported that the "very friendly and lovely" dog was taken to a local animal shelter after sitting in a seat for "hours" at the concert.
Metallica noted that Storm was later "safely reunited with her actual family the next day."
The husky's owner, Arizbeth Hurtado, said PetHelpful that she has no idea how her puppy got into the concert.
The band joked Thursday that the pup likes their favorite songs 'Barx Æterna', 'Master of Puppies' and 'The Mailman That Never Comes' – title The parody a number of tracks from the band over the years.
"And in case you're wondering, no. You should definitely not bring your furry friends to the #M72 World Tour. But that dog really had his day…" Metallica added.
The tour stop was enough for Metallica to break the venue's single-show attendance record, the stadium announced earlier this week.
Metallica will continue the M72 World Tour on Sunday with their second show in Glendale, Arizona.