News
Matt Damon takes a dig at the Trump campaign's use of "air" monologues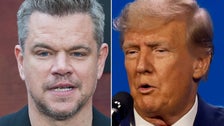 "I don't know what to make of this," Damon said during an interview with CNN's Chris Wallace, which was taped before the start of the SAG-AFTRA strike and aired Friday.
"I'm glad you like our writing," he added sarcastically in a video shared online Mediait.
Later in the interview, Damon joked that his character, Agent Sonny Vaccaro, was also "trying to write speeches for the Trump campaign."
Damon and his longtime friend Ben Affleck, who directed the film, have both condemned the Trump campaign's unauthorized use of the audio. They asked for the video to be removed, but it remains on Trump's Truth Social platform.