Matt Hudson-Smith reaches the 400m final at world championships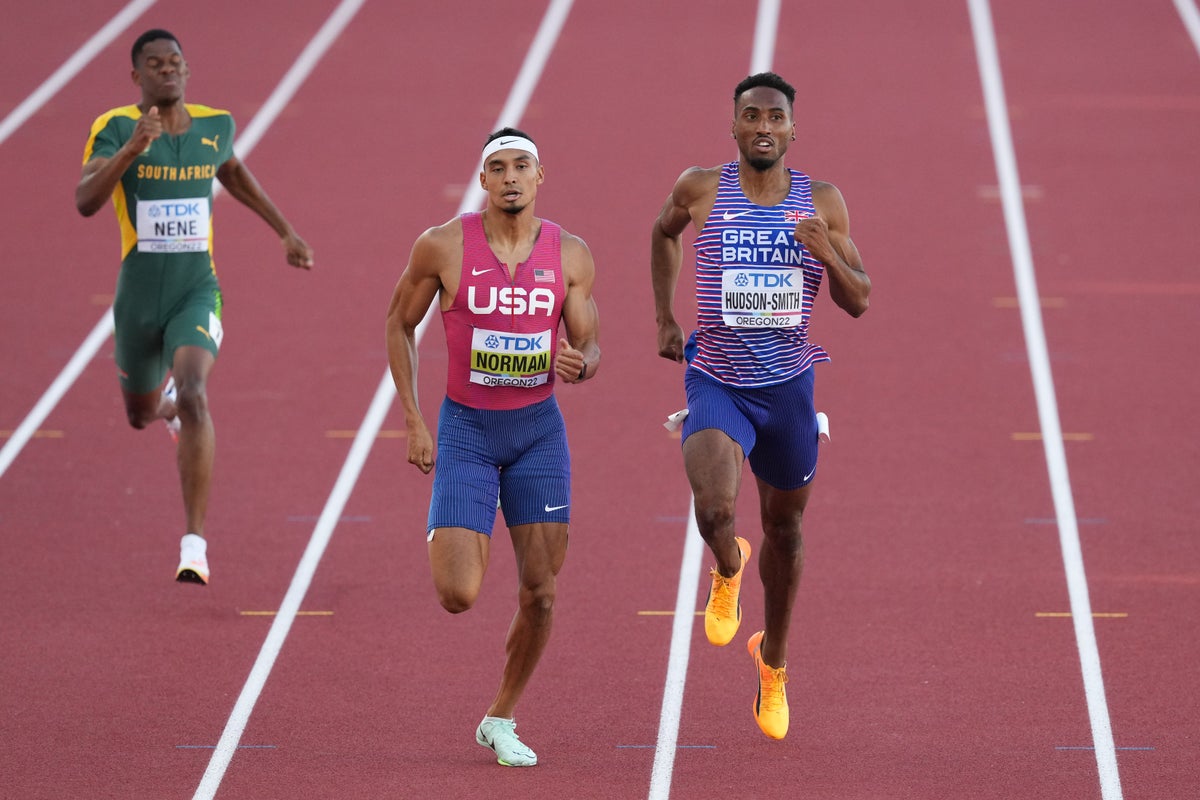 Matt Hudson-Smith rode to the 400m final at the World Championships and said he was ready to win.
The European champion ran 44.38 seconds in the first semi-final at Hayward Field on Wednesday evening.
Hudson-Smith finished behind USA's Michael Norman and qualified second fastest for Friday's finale in Eugene.
"I can win this. I'm preparing for the final. I had some left, but I made a huge mistake in the last 50m," said the 27-year-old, who set the British record of 44.35s on the same course in May.
"I just walked long, I started taking long steps and it broke my speed, just like chicken dance – that's what we call it.
"It was a good 350m, I walked long, I looked to the right and I felt Norman so I walked long and he capitalized on that. That's why he got the win.
"If I correct those two things, I'm on the right track."
Alex Haydock-Wilson's personal best of 45.08 seconds was not enough to qualify.
In the night's only final in Oregon, Aimee Pratt finished seventh in the 3,000m steeplechase – won by Norah Jeruto of Kazakhstan – with a British record of nine minutes and 15.64 seconds.
Max Burgin, the world's fastest man in the 800m, had to abandon the race after suffering a calf injury.
Dan Rowden and Kyle Langford, who finished fourth in London 2017, made it to the semifinals.
Langford said: "It was incredible. Laura (Muir) winning a medal gave the team a boost and Jake (Wightman) winning just cheered us on – we all cheered, cried and burst into tears in the lounge watching.
"It really ignited for me and I didn't bother too much all week and even yesterday until Jake's race. After that I was like, 'Okay, I'm excited to go now'."
Jessie Knight was KO'd 55.39 in the 400m hurdles semi-final and Victoria Ohuruogu, Ama Pipi and Nicole Yeargin all failed to make it to the 400m final.
"I knew if I was going to try to make it to the finals, I had to run a PB," Ohuruogu said after clocking a personal best of 50.99 seconds. "It may have seemed like a crazy idea, but I set my expectations high."
Eilish McColgan ran the best season with 14 minutes 56.47 seconds to reach the 5,000m final with Jess Judd, but there was no room for Amy-Eloise Markovc.
Two-time Olympic 800m champion Caster Semenya, unable to run in events between 400m and a mile without taking testosterone-reducing drugs, made no progress.
McColgan said: "I've had a bumpy ride getting to these champions. I feel like my fitness is there, but I'm not sharp at all. I've missed so many races – normally I would have done a couple of 1500m races in the States earlier in the year but I couldn't do them because of Covid and then I got laryngitis.
"I feel like I'm not spinning the way I'd like. I know I can run a strong pace, so I knew I had to take that out in the sub-15. I knew sitting and kicking wouldn't do it."
https://www.independent.co.uk/sport/british-oregon-british-athletics-kazakhstan-london-b2127942.html Matt Hudson-Smith reaches the 400m final at world championships