Matt Hudson-Smith was thrilled after defending his European 400m title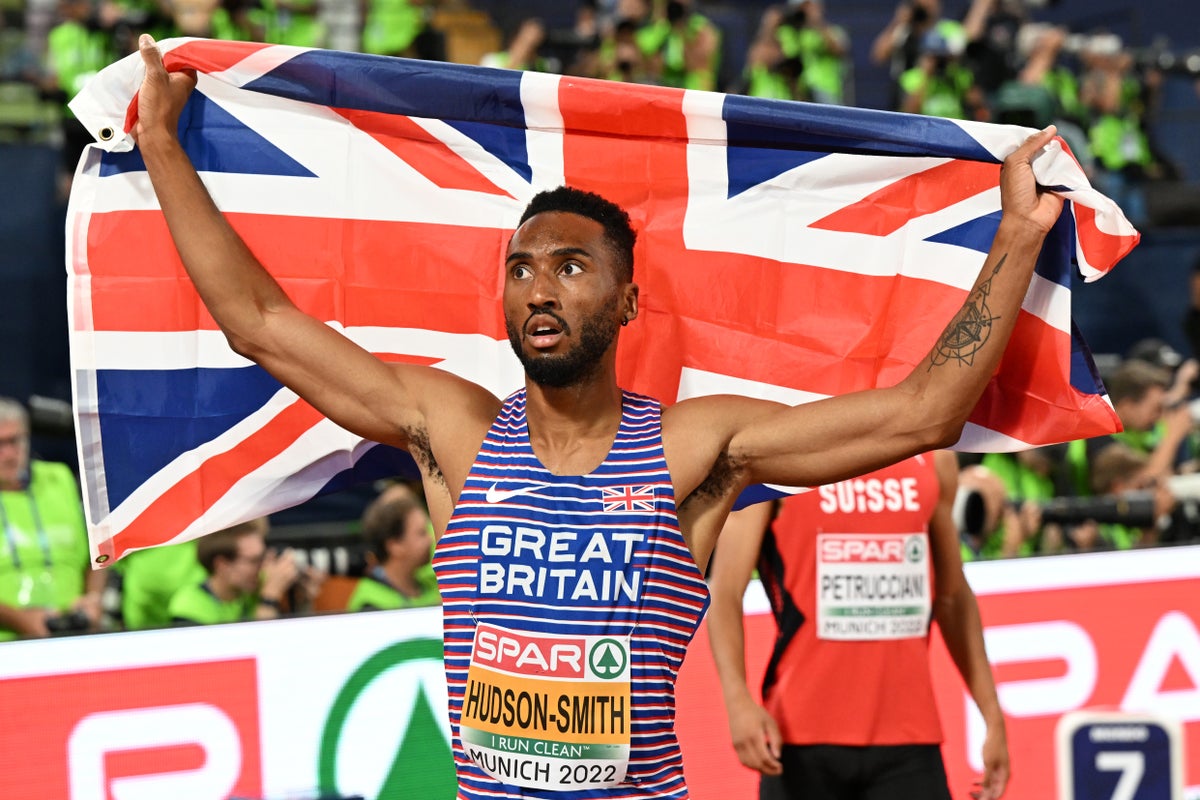 Matt Hudson-Smith defended his 400m title with a commanding victory at the European Championships in Munich.
The 27-year-old Briton, who won bronze at the World Championships and silver at the Commonwealth Games, stopped his attack perfectly to cross the finish line in 44.53 seconds and cap his summer set with a gold medal.
Switzerland's Ricky Petrucciani took silver and there was joy for Britain's Alex Haydock-Wilson, who fended off Dutchman Liemarvin Bonevacia to join Hudson-Smith on the podium.
Hudson-Smith, who is aiming for more success in the 4x400m relay, said: "It was a good win and I did exactly what I wanted. I'm so happy to be European champion again.
"I wanted to finish it and try to be calculated, try to take the gold. I think people thought I was going to go absolutely lightning fast on the backstretch so I used it and I controlled it and wound it up.
"It's been a busy summer but I'm really excited to be competing against the best in the world. There isn't much you can really ask for."
Bronze medalist Haydock-Wilson, who blamed himself for the GB quartet's failure to reach the 4x400m mixed relay final in Eugene, admitted the experience taught him an invaluable lesson after crossing the finish line had crossed in 45.17 seconds.
He said: "Honestly, now that enough time has passed, I couldn't be thankful enough for this experience. It was by far one of the worst of my life, I wouldn't wish it on anyone.
"It taught me so much, it made me fearless as it got me to a point where things really couldn't get any worse and I realized, 'This is awful, but it's not the worst in life, so why should it? I get nervous on race day knowing I'm capable of so many good things?'.
"It means so much, exactly what it stands for – it's more than a piece of metal, it's the culmination of so much hard work, so much pain, but also so much joy."
In the women's 400m, Britain's Victoria Ohuruogu wasn't so happy as she finished fourth behind Dutchman Femke Bol – also favorite for gold in the 400m hurdles – in 50.51, two hundredths ahead of Ireland's Rhasidat Adeleke, which set up a new national team record.
Ohuruogu said, "I really wanted a medal, but all things considered, I almost ran my PB again today, so I'm happy."
Andrew Pozzi made it to the 110m hurdles final as the fastest loser, but finished sixth in 13.66 seconds as Spain's Asier Martinez edged out France's Pascal Martinot-Lagarde for gold.
Jade O'Dowda set a new high jump personal best but finished day one of the heptathlon in 11th place.
O'Dowda, who won Commonwealth bronze two weeks ago, cleared 1.80m after running 13.72 seconds in the 100m hurdles and later clocked 12.98m in the shot put and ran 24.80m in the 200m on a day where reigning champion Nafi Thiam put up a 214-point lead over the rest of the field.
Jacob Paul also had a personal best in the 400m hurdles when he advanced to the semifinals in 49.40 seconds and finished second in his run.
Commonwealth bronze medalist Naomi Metzger made just one jump in the women's triple jump qualifier and decided that the 14.24m – her second best result of the season – would be enough as she reached the final with fourth best result.
Two-time Commonwealth Champion Nick Miller reached the men's hammer final with a throw of 76.09 m, while Lawrence Okoye qualified in the men's discus with a throw of 62.56 m.
https://www.independent.co.uk/sport/matt-hudsonsmith-team-gb-men-nafi-thiam-commonwealth-b2147270.html Matt Hudson-Smith was thrilled after defending his European 400m title