News
Miley Cyrus thinks this 2009 photo makes it so clear she's bisexual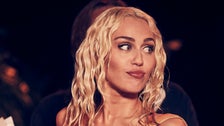 Miley Cyrus thinks her old outfits were a clear sign that she was part of the LGBTQ+ community.
Cyrus joked that her 2000s fashion exudes a lot of bisexual energy a funny tik tok on Thursday, citing an old paparazzi photo with Taylor Swift, Demi Lovato and actress Emily Osment as evidence.
The "Used To Be Young" singer looked far more casual than her pals in the widely acclaimed 2009 snap, sporting layered tees, baggy pants and slouchy silver boots, while her pals all wore sparkly black party dresses.
"If you didn't know from that damn picture that I was bisexual, I don't know what's up with you guys," Cyrus said, looking at the camera.
"I mean hello!" She screamed. "Look at her!"
The "Wrecking Ball" singer recalled heading to the Cheesecake Factory after the Grammy Awards and called the group "some elegant ladies."
(In an obvious mix of 2000s style restaurants, the vintage photo indeed looks like it was taken at PF Chang's after the premiere of "Hannah Montana: The Movie" on the red carpet.)
"All my life I have not understood my own gender and my own sexuality," she said. "I've always hated the word 'bisexual' because it actually categorizes me. I never think that someone is a boy or someone is a girl."
More recently the pop star told the podcast "Call her Daddy", "My identity is connected to sex much more deeply than it is to my sexuality… I enjoy sexuality more than sex."