'Miracle' child survives massacre in Thailand while sleeping under a blanket
A 3-year-old child who survived last week's massacre at a kindergarten in Thailand's northeastern Nong Bua Lamphu province slept soundly throughout the incident.
Paveenut Supolwong, nicknamed Ammy, slept with a blanket covering her face during lunchtime at a kindergarten in the city of Uthai Sawan on Thursday, Reuters reported.
That was the day when former police officer Panya Khamrap, 34, went on a killing spree around 12:30 p.m. local time, mainly in the kindergarten.
Khamrap, who was armed with a shotgun, pistol and knife during the attack, killed at least 36 people over the course of the day before fatally shooting himself at his home, according to ITV News.
Among the victims were 24 children, 11 of whom were stabbed in Supolwong's classroom.
One person could see Supolwong moving in a far corner of a classroom after Khamrap left.
According to Reuters, she was the only child in the kindergarten who escaped unharmed.
"I'm in shock. I feel for other families… I'm glad my child survived. It's a mixed feeling of sadness and gratitude," the child's mother, Panompai Sithong, was quoted as saying by Reuters.
Sithong said she believes spirits protect her daughter.
"My child is not a heavy sleeper. I believe it must be spirits covering their eyes and ears. We have different beliefs but for me I think it protected my child," the mother said.
Another relative told local media that Supolwong's survival was a "miracle."
The 3-year-old girl appears to have no memory of the tragedy, her parents said. She also does not yet know the full extent of the tragedy she has experienced.
Police have yet to determine Khamrap's motives, but noted he was troubled by marital and financial problems following his suspension from police in January on drug-related charges, Global News reported.
The ex-sergeant, who got into a fight with his wife on the day of the incident, may have wanted to "vent the air," according to local police chief Chakkraphat Wichitvaidya.
Khamrap's wife and stepson were among the 11 people he killed outside of kindergarten.
Thursday's incident marks the deadliest mass shooting in Thailand's history.
The country's worst mass shooting to date occurred in 2020, when a soldier shot dead 29 people at a mall in the northeastern city of Nakhon Ratchasima.
If you're having suicidal thoughts, you can get free, confidential help from the National Suicide Prevention Lifeline. Call 1-800-273-8255. The line is available 24 hours a day, every day.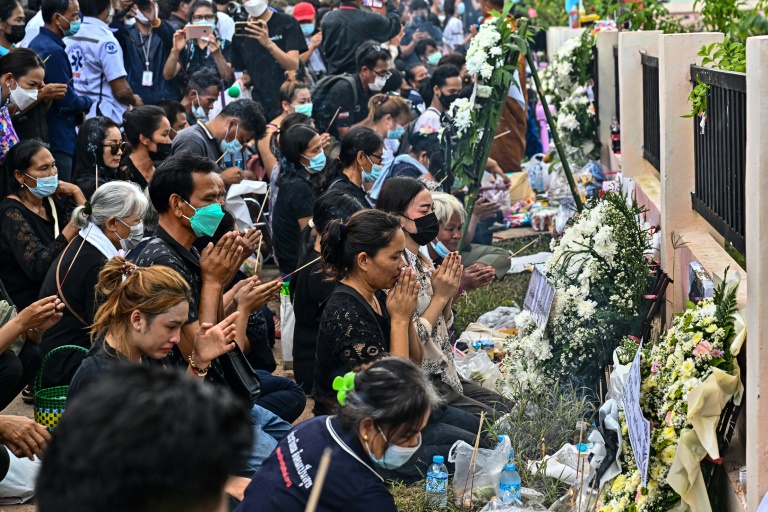 Related Articles
https://www.ibtimes.com.au/miracle-child-survives-thailand-shooting-massacre-while-sleeping-under-blanket-1839361?utm_source=Public&utm_medium=Feed&utm_campaign=Distribution 'Miracle' child survives massacre in Thailand while sleeping under a blanket