News
More bodies recovered from Rio Grande, including a 3-year-old, as migrant numbers increase
Three bodies were recovered this week from the Rio Grande along the Texas-Mexico border, including that of a 3-year-old boy, as state and Border Patrol officials erect dangerous barriers to prevent migrant crossings that have reportedly reached record levels this month.
The latest victim was pulled from the water by a Texas Marine tactical unit near Eagle Pass on Wednesday. The Texas Department of Public Safety said they received a report that the boy had been swept away by the current while trying to cross the border with his family around 3:30 p.m. The boy was pronounced dead at a local hospital.
The recovery of the child's body took place north of a controversial floating sea barrier that immigrant advocates and both Mexican and U.S. officials say is dangerously redirecting migrants to parts of the river that are deeper and more treacherous.
DPS spokesman Lt. Chris Olivarez, in a statement A report posted online said the child's death was "another senseless tragedy" caused by what Olivarez called the federal government's failure to prevent illegal border crossings.
A second death was reported Thursday morning. Shortly before 9 a.m., a body was found submerged a few hundred yards north of the barrier's buoys, DPS said.
Fox News reporter Bill Melugin described the victim as a middle-aged man. Share video about the body's recovery on X, the social media site formerly known as Twitter. DPS referred further questions to the Maverick County Sheriff's Office, which did not immediately respond to HuffPost's request for comment on Friday.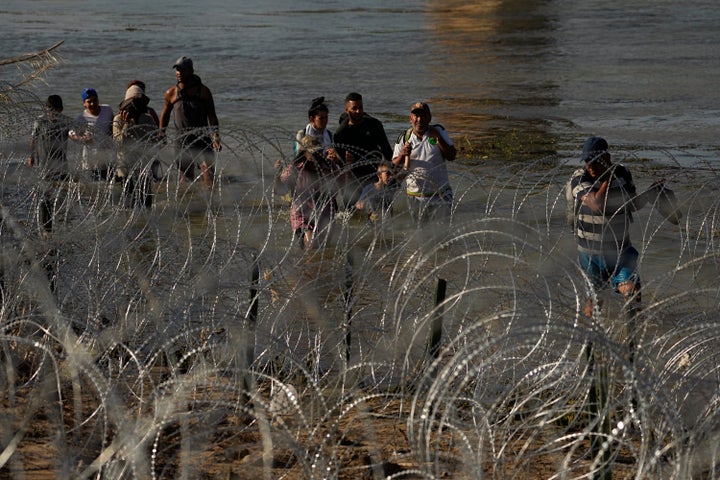 A third death was reported Friday morning. The victim was only described as male.
Video posted online by Julio Rosas, a writer for the media outlet Townhall, shows the body of a man floating between buoys in the river. Eagle Pass Fire Chief Manuel Mello told HuffPost that the body floated into the buoys and that they did not cause the man to drown. A few weeks earlier, a mother and a 10-year-old boy died in the river, Mello said.
Having the bodies of several men, women and children was pulled out of the riverincluding several that were found trapped by the buoys.
Mexican officials have formally complained to the U.S. government about the buoys and called for their removal, saying they pose security risks, violate treaties governing the use of the river and violate Mexico's sovereignty. Immigrant advocates have also raised concerns about the risk of drowning.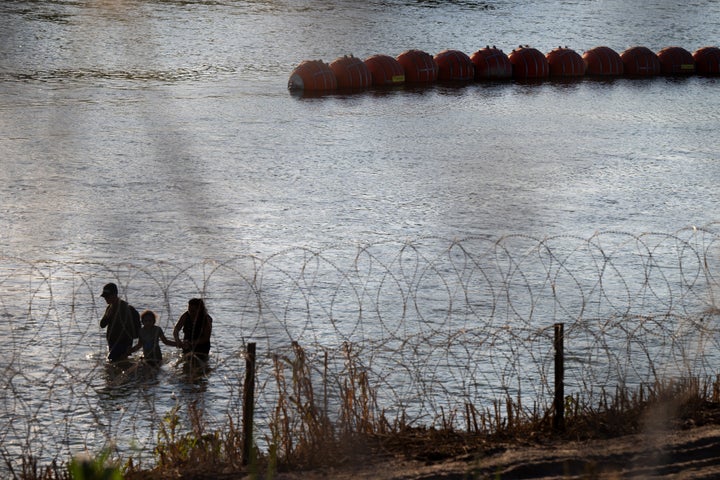 A U.S. judge recently ordered Texas to remove the buoys after the Biden administration sued the state over their use. However, Texas Gov. Greg Abbott (R) immediately appealed the order and a U.S. appeals court granted the state an emergency stay until further judgment.
It's not clear whether the buoys actually increased the number of drowning deaths, as some have feared.
Regardless, Ricky Garza, border policy advisor to the Coalition of Southern Border Communities in Texas argues that these anti-migrant tactics are intentionally dangerous and violate basic human rights.
"I think, fundamentally, no one deserves to be killed by the state because of migration."

– Ricky Garza, Border Policy Advisor, Southern Border Communities Coalition
"Every law enforcement agency has an obligation to respect the fundamental human rights of migrants. It's just part of our international obligations, it's part of international treaties," he told HuffPost. "I think, fundamentally, no one deserves to be killed by the state because of migration."
The southwest border has seen a surge in border crossings in recent years, partly due to instability in countries like Venezuela with authoritarian governments.
The number of migrants apprehended by U.S. immigration officials along the Texas border rose to near record levels this month. CBS News reported Thursday, citing unpublished federal figures. Border Patrol agents reportedly apprehended an average of 6,900 migrants per day in the first 20 days of September, a 60% increase from the daily average in July.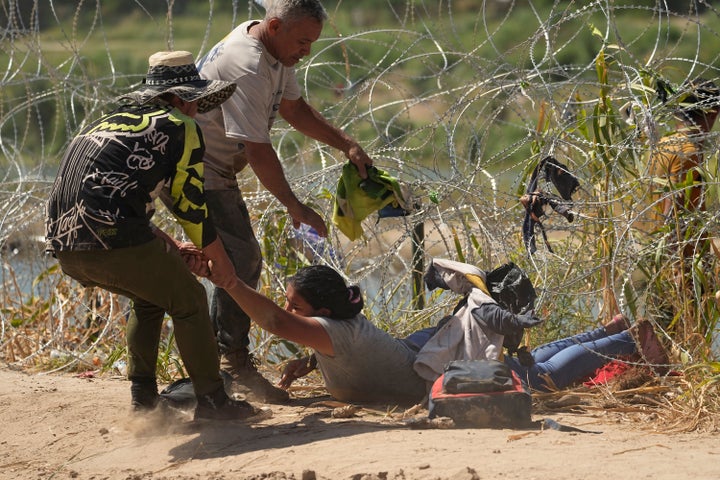 Abbott has responded to the increase with bus service more than 40,000 migrants in Democrat-run cities and the installation of miles of barbed wire fences and floating sea barriers.
Instead of creating physical dangers, Garza argues, limits on the daily number of migrants allowed at border checkpoints should be expanded so that people have a safe path to entry.
"Broadly speaking, the U.S. international obligations say that everyone has the right to seek asylum if they are fleeing persecution, and that cannot happen because of this measurement," Garza said.
"That's why you see people crossing between ports in really dangerous situations that are made worse by our enforcement forces – with barbed wire, with barbed wire, with all these troops along the river," he said. "People should be given a safe option."