News
MP Dean Phillips is stepping down from his leadership role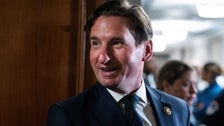 Rep. Dean Phillips announced Sunday that he is stepping down from his Democratic leadership role as rumors continue to circulate that the Minnesota congressman may run against the president in the 2024 primary.
According to a spokesman for Phillips, the three-term congressman will step down from his role as co-chair of the Democratic Policy and Communications Committee. Phillips will continue to represent his district in Congress and remain part of the Democratic caucus.
"My beliefs regarding the 2024 presidential election do not align with the majority of my caucus, and I felt it was appropriate to step away from elected leadership," Phillips said in a statement obtained for the first time from Axios. He later confirmed that he was neither forced nor pressured to resign.
The congressman said he recognized House Minority Leader Hakeem Jeffries (D-N.Y.) "for his remarkable and principled leadership and [I] I would like to express my gratitude to my outstanding friends and colleagues for creating space and a place for my perspectives."
Phillips, 54, has been vocal about the need for younger leadership in the Democratic Party – including in the White House. Last year, the congressman said President Joe Biden should not run for re-election even though he considered him a "man of integrity and competent" who had "done an outstanding job under extraordinarily difficult circumstances."
In July, moderates began publicly floating the idea of ​​challenging Biden in the 2024 Democratic primary. Even though I say it He is not "well-positioned" going into the race Although Phillips preferred a more prominent Democrat to challenge the incumbent, as recently as last week he refused to rule out the possibility of stepping in.
"I think there are people who are closer and better prepared to campaign with national organizations and have a national profile that I don't have," he added.
The Minnesota Democrat's criticism of Biden's decision to run for re-election has reportedly sparked unrest within the party. During a closed meeting last week, freshmen Rep. Sydney Kamlager-Dove (D-Calif.) reportedly asked why A member of the House Democratic leadership deviated from the message and threatened to run for president against Biden. According to Axios, the question was met with applause from other House Democrats on the floor.
On Sunday, Phillips said he would "continue to hold fast to my beliefs, putting people above politics and supporting our shared mission to provide security, opportunity and prosperity for all Americans."