News
MSNBC anchor Alicia Menendez says she won't cover her father's charges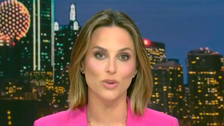 "Last week a grand jury indicted U.S. Senator Bob Menendez. "Over the past week, dozens of members of his own party have called for his resignation," the MSNBC host said on her show "American Voices."
"I watched with all of you, as a citizen and also as his daughter. I will not report on the legal case."
She later referenced her own network's coverage as she spoke just over a week after her father was indicted on corruption charges.
"But my colleagues at MSNBC and NBC News have aggressively covered the story and will continue to do so, as they should," the anchor added.
The host's on-air comments come after her father and mother Nadine Menendez were among those accused of an alleged bribery scheme.
The presenter did not appear on her show last weekend following the indictment. A source told The Washington Post that "the timing was fortuitous" as she had long wanted to attend a wedding.