News
MSNBC's Mehdi Hasan discovers Rupert Murdoch's "most relentlessly toxic" legacy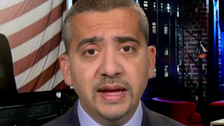 MSNBC's Mehdi Hasan criticized the "very real trail of destruction" left by Rupert Murdoch as the billionaire media baron prepares to take over as chairman of Fox Corp. and News Corp. to resign.
"It is difficult to summarize Murdoch's relentlessly toxic and damaging record and to summarize the sheer power of Murdoch to harm our politics, our media, our world," Hasan wrote in an essay published Sunday on the MSNBC website, an adapted version of a monologue , which he delivered on his show in April
"Three of the most destructive events of my life – the Iraq War, the Brexit vote and the rise of Trump and his Big Lie – simply could not have happened without Rupert Murdoch," he added.
On Trump, Hasan explained how Fox "laid the groundwork for his victory in 2016" and then "essentially became his propaganda arm" once he was in the White House.
After Trump's defeat in 2020, Hasan noted that Fox and Murdoch "had a moment of opportunity to break with Trump" but regrettably did not do so.