News
Nancy Pelosi says Matt Gaetz is only good for two things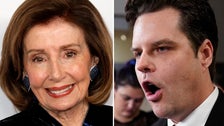 Gaetz told CNN's Jake Tapper on Sunday that he intends to remove McCarthy from office after McCarthy worked with Democrats to narrowly avoid a federal government shutdown over the weekend.
Gaetz led the right-wing group of Republicans in the House of Representatives who opposed McCarthy's bid for speakership from the start. McCarthy needed 15 votes to finally get the gig.
Pelosi, who spoke to Tapper after his conversation with Gaetz, told the CNN anchor that he was "wasting your time on this guy."
Gaetz "has no influence" in the House "other than getting on TV and raising money on the internet," Pelosi continued.
Asked by CBS's Margaret Brennan about Gaetz's mission to unseat him, McCarthy replied: "I will survive."
Watch the interview here: