Nick Kyrgios smashes racquet as Karen Khachanov ends US Open run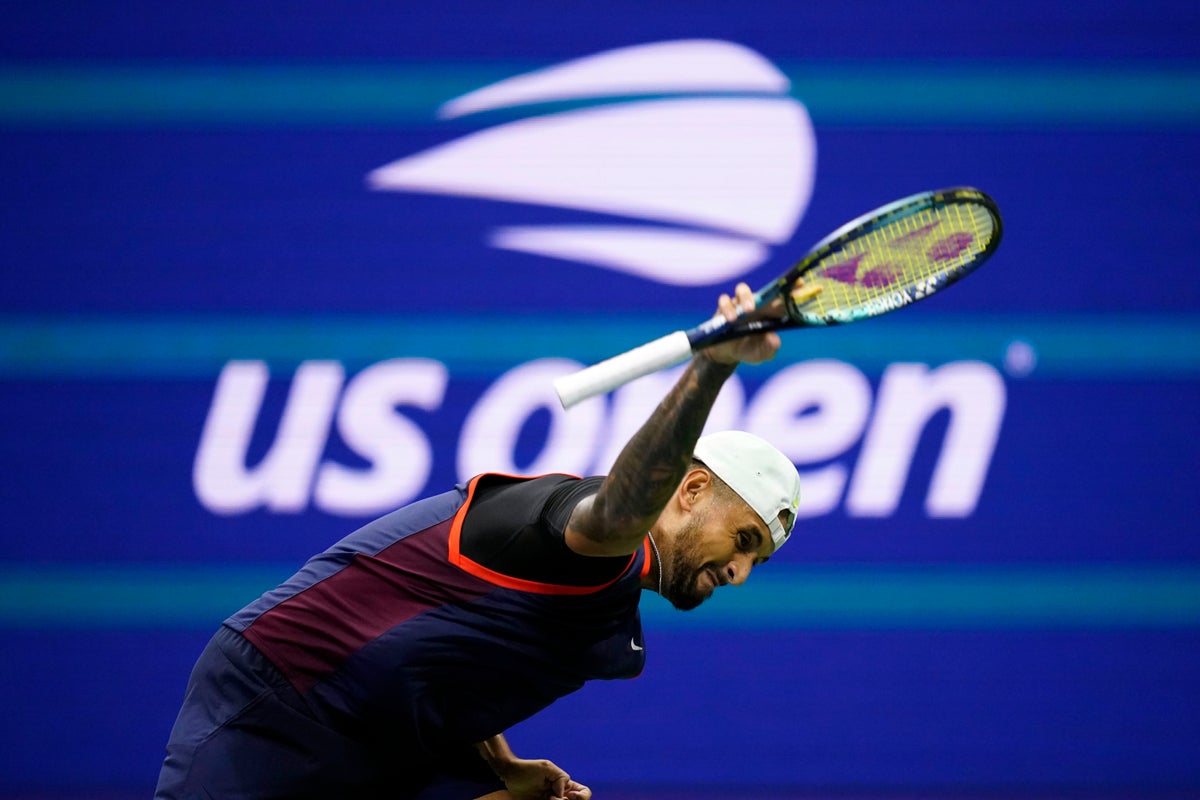 Nick Kyrgios' quest for a first Grand Slam title at the US Open ended in a five-set quarterfinal loss to Russia's Karen Khachanov.
After reaching the Wimbledon final, Kyrgios arrived in New York motivated to go one better, but he couldn't find the same tremendous level he showed when he defeated defending champion Daniil Medvedev in the fourth round.
Instead, it's Russia's Khachanov who moves into a First Slam semi-final just before 1 a.m. with a 7-5, 4-6, 7-5, 6-7(3), 6-4 win.
After congratulating Khachanov, Kyrgios showed his frustration with the result by destroying two racquets and then quickly walking off the pitch.
Kyrgios and Khachanov were tied 1-1 in their previous encounters while off the pitch they were caught up in a Twitter spat over player behavior during the coronavirus pandemic two years ago, with Kyrgios calling his rival an "absolute pelican" designated. .
After peaking his performance against Medvedev on Sunday, Kyrgios looked a bit drained in the early stages of this competition.
He took a medical break after losing the opening set for treatment on his left knee after complaining to his box that he couldn't walk.
The Aussie rose to win the second set and it was clear the third was crucial to how the match would go.
Kyrgios had two break chances at 4-4, but couldn't capitalize on either one and angrily threw his racquet after the second.
Khachanov missed a glorious break chance in the next game when Kyrgios lost focus but missed a forehand from above at the net.
More chances arose in Kyrgios' next service, however, and this time the Russian converted, leaving his irate opponent to rant in his box and receive an unsportsmanlike conduct warning after slamming a soda bottle on the floor.
The 27-year-old has already been fined a total of $18,500 (approx.
Kyrgios stared into the run late in the fourth set but then pulled out a brilliant tie-break to force a decider.
The crowd was firmly on Kyrgios' side but Khachanov was determined not to let his chance slip and broke serve in the opening game.
Kyrgios pushed hard to stay level again but Khachanov, in 31st place, fought back to the finish line to face Casper Ruud in the semifinals, who had earlier defeated Matteo Berrettini.
https://www.independent.co.uk/sport/tennis/nick-kyrgios-karen-khachanov-us-open-b2161442.html Nick Kyrgios smashes racquet as Karen Khachanov ends US Open run