News
Nicolle Wallace overwhelmed by Tommy Tuberville's latest 'profound, embarrassing ignorance'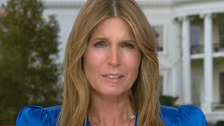 MSNBC's Nicolle Wallace appeared visibly shocked by what she called the latest display of ignorance from Sen. Tommy Tuberville (R-Ala.) as he continued to block military promotions in the Senate in protest of the Pentagon's abortion policies.
Tuberville told reporters Tuesday that he is confident that Joint Chiefs of Staff Chairman Mark Milley will remain in office beyond his official Oct. 1 departure date until a replacement is named.
"I'll call Milley and wish him good luck, but I don't know if he's going anywhere until someone is confirmed," the Alabama Republican said.
The reporters explained that Milley was legally required to leave the country.
"He has to go?" asked Tuberville. "He's out. We'll get someone else to do the work. But hopefully it'll be finished by then."
Wallace couldn't believe the exchange.
"Hopefully, what's done? "You are the problem," she said Tuesday.
Tuberville blocked single-handedly Military nominations and promotions dragged on in the Senate for months, creating a backlog of hundreds. He says he is doing this to protest the Defense Department's policy of allowing service members to take time off to seek abortion care in states where it is available.
Tuesday's exchange was just "another layer of Tuberville's profound and embarrassing ignorance about the U.S. military," Wallace said.