Novak Djokovic thanks Roger Federer for the "nice" farewell at the Laver Cup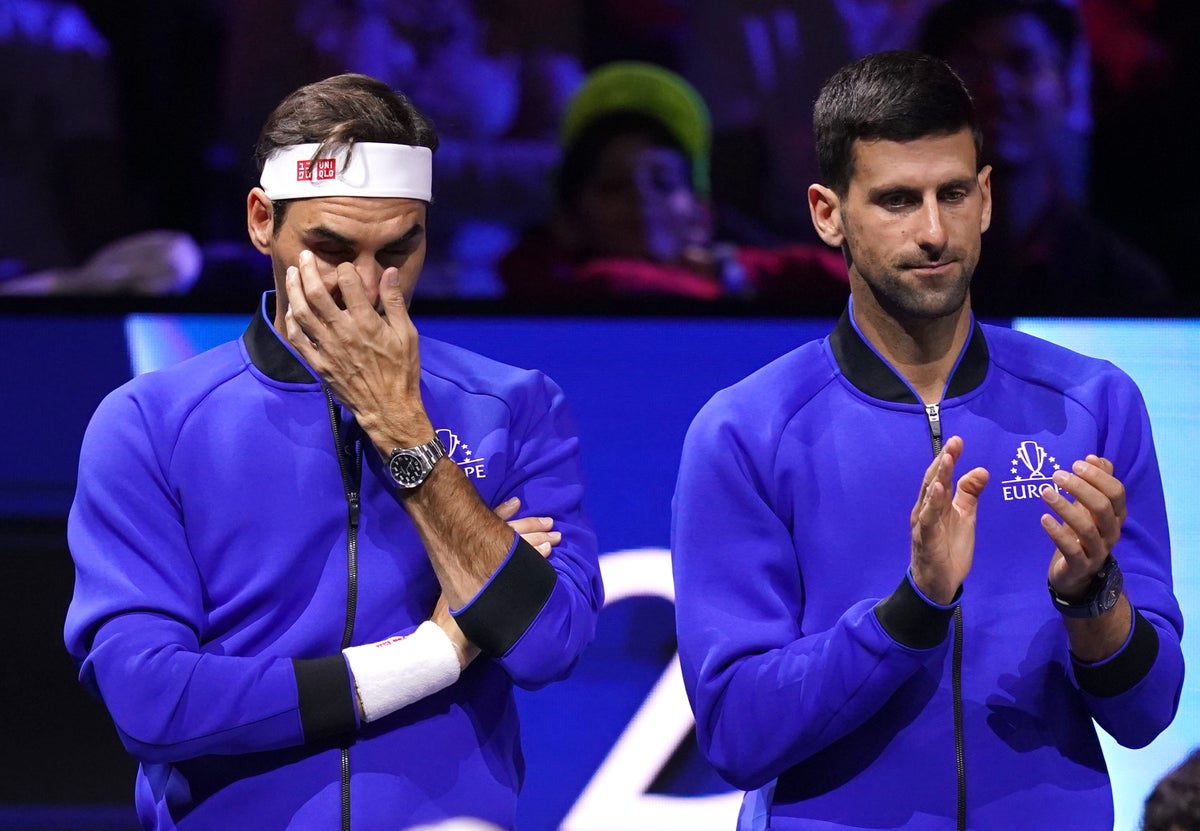 Novak Djokovic expressed his gratitude for being a part of Roger Federer's "beautiful" departure from professional tennis, but admitted he was left with mixed feelings at his rival's retirement.
The Serb was present at the O2 on Friday night to watch his colleague from Team Europe retire from competitive sport after a double defeat to Jack Sock and Frances Tiafoe in the Laver Cup.
Federer has teamed up with Rafael Nadal – the other member of the 'big three' – for his latest match, but in keeping with the unique situation of the London event, Djokovic was one of the most vocal, supporting two players who were usually his biggest competitors .
An emotional farewell to the professional game was accorded Federer, who received a series of ovations and had a retirement video package played on the big screen before singer Ellie Goulding produced a performance that left the Swiss star and Nadal in tears.
Djokovic said after beating his singles over Tiafoe on Saturday: "Well I think we can all agree that this was one of the most beautiful moments anyone has experienced live or on a tennis court anywhere in the world.
"We all knew it was going to be an emotional farewell for Roger, but I think the moment took hold of us all.
"At the same time, it's a mix of emotions. Sadness because one of the greatest athletes of all time is leaving the sport but on the other hand to see him so happy with how everything has turned out I was just very grateful and privileged to be able to join other players from Team World and Europe to witness this .
"It was definitely one of the most beautiful moments I've ever experienced in my life."
Federer had hinted in the hours after his "last dance" that a possible farewell tour could be on the horizon.
He had announced last week that the doubles competition on the first night of the Laver Cup, the Ryder Cup-style team competition he created, would be his last on the ATP Tour, but the door was left open for more chances to see him at the Tennis can be seen on courts around the world, just not in a professional capacity.
"I have absolutely no plans where, how, when. All I know is that I would love to play places I've never played before or say thank you to all the people who have been so supportive over the years," he said during a press conference that only ended after 2am on Saturday.
"Because the difficult thing about the Laver Cup was that the tickets were already sold out. You know, the people who might have wanted to be here couldn't make it.
"Maybe there's another way we can all celebrate together."
Defeat in a comeback was finally publicly admitted by Federer last week after a series of surgeries on his right knee over the past two and a half years proved unsuccessful.
It meant the last singles competition of his career came at Wimbledon last year, where he lost to Hubert Hurkacz in the quarter-finals, but he insisted the retirement he opted for last month was no longer a scary concept.
He added: "I could keep reminding myself on the pitch how wonderful that is.
"It's not the end, end you know, life goes on. I'm healthy, I'm happy, everything is great and this is just a moment."
While Federer was emotional during his interview in the square where he paid tribute to his wife Mirka, he was happy to say goodbye in Nadal with a friend by his side and they shared a long hug after Socks winner the two-hour and had brought -14-minute competition to the end.
"Not being alone on this pitch for a whole evening helped a lot," admitted Federer.
Nadal, who will always have the upper hand over Federer 26:14 in singles, spoke at length about their "beautiful" friendship.
"It was a great honor for me to be part of this amazing moment in the history of our sport," said the Spaniard.
"When Roger leaves the tour, yes, an important part of my life also leaves.
"We have completely different styles on the pitch and that probably makes our games and our rivalry one of the biggest and most interesting.
"But in family life, in personal life, we probably don't approach life very differently, do we? That's why we can trust each other.
"Having someone like Roger that I'm confident to talk to about personal things is something very beautiful after all the things we've shared together and all the important things we've fought for for so long."
https://www.independent.co.uk/sport/tennis/roger-federer-novak-djokovic-laver-cup-rafael-nadal-george-russell-b2174646.html Novak Djokovic thanks Roger Federer for the "nice" farewell at the Laver Cup