Novak Djokovic was happy to make his contribution after seeing Roger Federer's farewell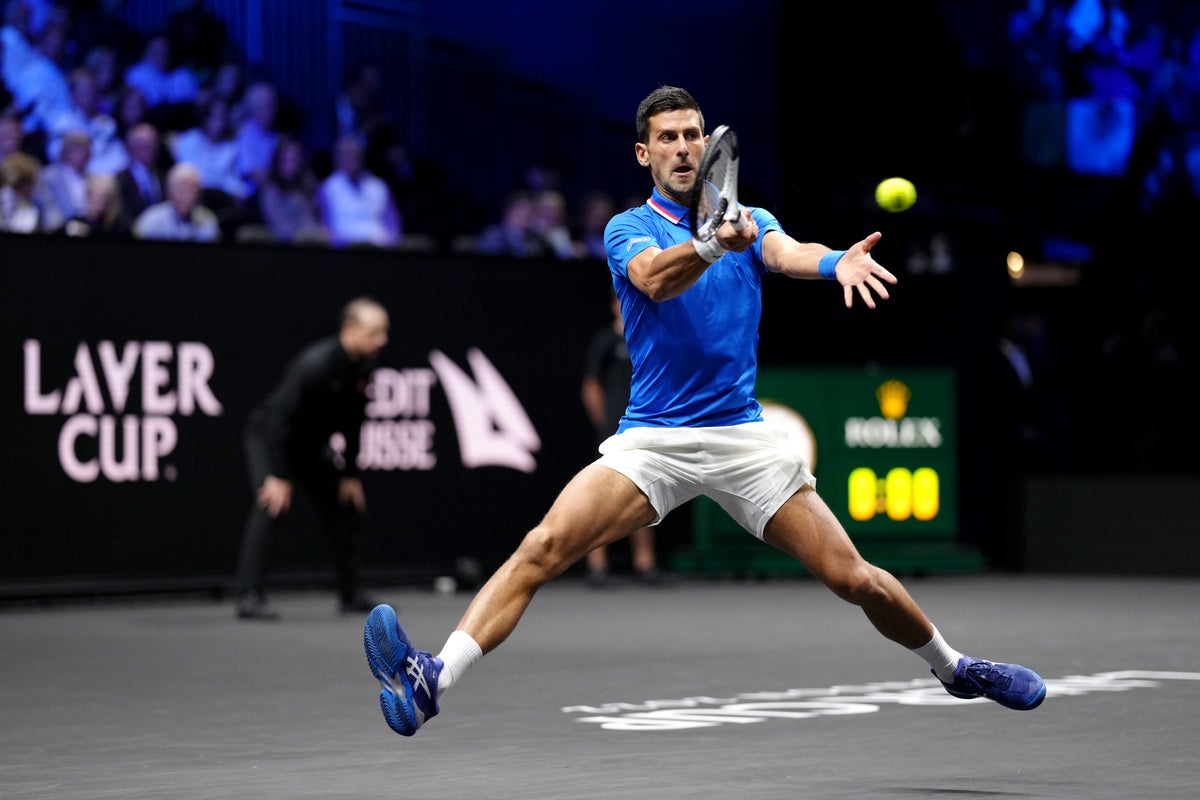 Novak Djokovic quickly made up for lost time with two wins to help Team Europe take control of the Laver Cup on day two of the team competition in London.
A day after Roger Federer's emotional departure from competitive tennis alongside Rafael Nadal in the wee hours of Saturday morning at the O2, Djokovic took center stage with a routine win over Team World's Frances Tiafoe before teaming up with Matteo Berrettini to take Jack Sock and Alex to beat de Minaur in doubles.
It put Team Europe 8-4 ahead of the final day and with three points on Sunday, the hosts will cap a fifth straight title with two more triumphs in the race to reach the 13-point mark.
Djokovic was limited to a brief observation on Friday as two of his biggest rivals – but teammates for the event – joined forces in the memorable doubles competition that ended Federer's illustrious career.
If the Serb was itching for some of the action, it wasn't obvious during his cheerleading role in his old opponent's "last dance," but when he took the court on Saturday night it was his first contest since a seventh Wimbledon win was held in the earned in July.
Against US Open semi-finalist Tiafoe, Djokovic sealed an almost flawless first set within half an hour.
It was a sign that the 21-time Grand Slam champion pulled off a 6-1, 6-3 win in 73 minutes and looked in fine form.
Djokovic told court: "I haven't played in a couple of months, last game was the final at Wimbledon in that town down the road so I'm really happy to continue the run. A pretty decent match on my part.
"When I won yesterday for the team after a long and emotional day it wasn't easy to restart the engine so I'm just happy with the performance and getting two points for the team."
No sooner had Djokovic left the stylish charcoal court than he was back in doubles with Berrettini to end day two.
The Team Europe duo started like a train and while Sock and de Minaur briefly stopped the attack, a 7-5, 6-2 triumph was finished in an hour and 22 minutes.
That meant Berrettini also enjoyed two wins on Saturday after coming on for Federer, who remained in a supporting capacity at the Ryder Cup-style event that was his idea.
The Italian showed his best tennis during a tie-breaker to defeat Felix Auger-Aliassime 7-6 (11) 4-6 10-7 in another lengthy Laver Cup clash between the duo.
A blistering forehand winner, a 132-mile ace and a magnificent drop shot helped the stone-cold Berrettini secure four wins over the young Canadian in five attempts to impress in front of his idol.
He added: "Having the chance to live what we lived yesterday will forever be stuck in my heart and brain.
"I'm not lying when I say I'm here because of (Federer). He really was the one I looked up to. He was the one I supported and cheered for.
"I'm obviously very happy to win, but I feel like we're celebrating something bigger this weekend than the Laver Cup, than tennis. It's just him."
British number one Cameron Norrie did not fare so well as he followed in the footsteps of Nadal, who withdrew from the event following his iconic role in Federer's farewell.
Norrie fought back well against Taylor Fritz after a poor start, but the American triumphed 6-1, 4-6, 10-8, proving Team World's only points of the day.
Wimbledon semi-finalist Norrie nonetheless enjoyed the opportunity to put teammate Federer's coaching tips into practice.
"At one point Roger said, 'Yeah, it's a good game to volley,' so I actually volleyed. I had the game but I didn't quite complete the volley," Norrie explained.
"I looked over at him and he laughed and smiled. He was glad I actually did it. I mean, if Roger Federer tells you to do something, there's no chance I won't do it.
https://www.independent.co.uk/sport/tennis/novak-djokovic-laver-cup-roger-federer-matteo-berrettini-team-europe-b2174660.html Novak Djokovic was happy to make his contribution after seeing Roger Federer's farewell