News
Olivia Rodrigo addresses rumors of a feud with Taylor Swift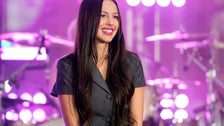 Olivia Rodrigo said, "I don't have a fight with anyone" when Rolling Stone asked her about her alleged feud with Taylor Swift.
"I am very relaxed. I keep to myself. I have my four friends and my mom, and they're really the only people I ever talk to. There's nothing to say," she told the magazine in its press release Cover story interview with her, released on Tuesday.
"There are so many Twitter conspiracy theories. I just look at alien conspiracy theories."
Since then, Rodrigo has rarely mentioned Swift's name in interviews, instead mentioning other artists like Lorde And Phoebe Bridgers their idols.
Rodrigo had to too Provide written recognition to Paramore singer Hayley Williams and former Paramore guitarist Josh Farro for Rodrigo's song "Good 4 U", due to its similarities to Paramore's "Misery Business".
"I was a little surprised," Rodrigo told Rolling Stone. "It was very confusing at the time and I was green and had bright eyes and a bushy tail. (…) It's not something I was particularly involved in. It was more of a team versus team situation."