Orphan Black: Echoes: Everything We Know So Far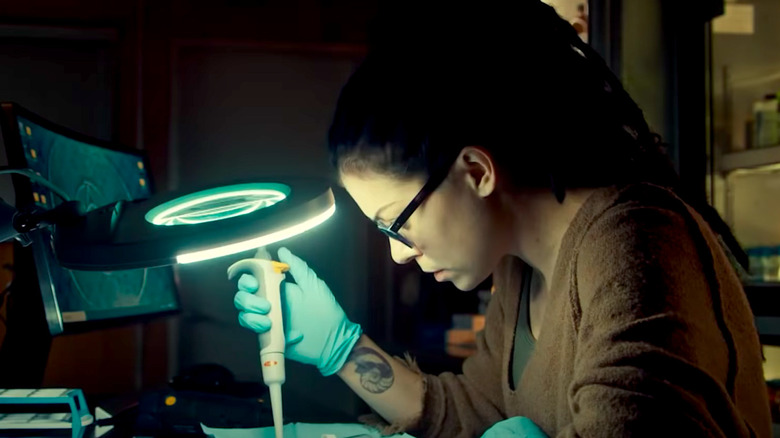 It's been five years since we spent some quality time with the Clone Club from "Orphan Black," and when we last saw "sestras," all was well in their world. However, it looks like there are still stories to be told as a new spin-off, "Orphan Black: Echoes," is currently in the works.
The original series, which focused on the life of Sarah Manning and her shocking revelation that she was actually part of a group of clones in danger of being killed one by one, set fire to the television world with unique premise and impressive acting from Tatiana Maslany, who portrayed various versions of herself in each episode. The show aired for five action-packed seasons, taking viewers on an elaborate trip through the germ-base of genetic enhancement. For those who still want to explore the world of science experiments and old fashioned body modification (looking for a tail, anyone? Rachel Duncan knows a guy), "Echoes" hopes to deliver. Give fans a new dose of healthy clones of kindness. Here's everything we know about the new series so far.
Story so far
The details of "Orphan Black: Echoes," almost end up as the origin stories of Sarah and her crew. The AMC synopsis for the upcoming series doesn't really give us much to go on either:
"Orphan Black: Echoes is set in the near future and delves into exploring the application of science to human existence. It follows a group of women as they weave their way into each other's lives and embark on a thrilling journey, unraveling the mystery of their identities and uncovering a harrowing tale of love and betrayal. multiple. "
It would be interesting if "Echoes" followed a similar pattern to its predecessor (i.e. clone-detecting clone-detecting clone-detecting tail-detecting duplicates) , etc.), especially if the new series is set to take place in the same universe as the original "Black Orphan." Or perhaps "Echoes" will explore a whole new area of ​​genetic manipulation fully cloned. After all, the original show only cracked the surface for all the "leekie freak" things going on in the world of the Clone Club. Maybe this new iteration will bring something new to the transgenic panel.
What we know about the cast and crew
Krysten Ritter will star in "Orphan Black: Echoes" as a character named Lucy. Ritter is best known for her role as Jessica Jones on the Netflix television show of the same name. However, fans may also recognize her from the ABC sitcom "Don't Trust the B**** in Apartment 23", as well as her small appearance time in "Gilmore Girls" with as Rory's art college friend, who is also ironically named Lucy (now accepting all the "Gilmore Girls" / "Orphan Black" crossover theories, y'all!). Oh that's right – she's also on a little-watched show called "Breaking Bad".
The cast for "Echoes" also includes Keeley Hawes, a three-time BAFTA-nominated British actress with an impressive resume. Over the term, her role in "Echoes" is "a sensitive yet sensitive scientist who feels at odds with her own moral code when circumstances force her to make an unimaginable choice." Okay." I get the strong "Delphine" vibe with that description.
Avan Jogia ("Victorious," "Zombieland: Double Tap") and Amanda Fix ("North of Normal") are also set to star, as is newcomer Zariella Langford. Recently released stills from the show, Ritter looks rather erratic when she appears to comfort Langford, who will be playing a character named Charlie. Other photos show Hawes in a white lab coat (obvi), and Ritter and Jogia chatting in the dark. However, there is no word yet on whether Maslany and her original co-stars will return to reprise any of their roles.
Anna Fishko is the main creator of "Echoes" and she's also listed as an executive producer, writer, and presenter. However, "Orphan Black" original creator John Fawcett will also return to help produce and direct the new series.
When and Where to Watch Orphan Black: Echoes
"Orphan Black: Echoes" is set to premiere on AMC+ as well as AMC's linear networks (BBC America and AMC), although it's yet to be confirmed exactly where. The show originally aired on BBC America, so we can reasonably expect that "Echoes" will follow a similar path. The new series is expected to be 10 episodes long and although there is no official release date yet, it has been confirmed that the series will be broadcast on our television in 2023.
If you were hoping to revisit the original series before "Echoes" arrives, unfortunately "Orphan Black" isn't currently streaming on any of the available platforms. However, this is likely to change as we get closer to the release of the new program. In the meantime, those looking to fix their clone club can try the "Orphan Black" narrative podcast, which takes place eight years after the events of the original show and stars Maslany, Jordan Gavaris (Felix Dawkins) and Evelyne Brochu (Delphine Cormier) reprise their original roles.
Continue reading: 12 Shows What You Definitely Need to Go Live
The post Orphan Black: Echoes: Everything We Know So Far appeared first on / Movies.
https://www.slashfilm.com/1040733/orphan-black-echoes-everything-we-know-so-far/ Orphan Black: Echoes: Everything We Know So Far