Our Game of the Year 2022: Will Elden Ring be the last of its kind?
Blood on moss, torn horrors reaching for the sky: Elden Ring is Eurogamer's Game of the Year 2022. And it feels strange to say it, even if there was never really any doubt. Maybe it feels weird to say that because it's never really been questioned. Elden Ring received about twice as many votes as the next runner-up when we polled employees and freelancers. For the past few weeks, gaming site after gaming site has announced that Elden Ring is their favorite game of the year. In 2022, Elden Ring is inevitable.
Real talk: At first we were a little overwhelmed by our own choice. Not through the game, which is a dismal marvel. It's about that feeling of giving in to the inevitable. A Game of the Year should inspire a sense of surprise before it sets in and feels like the only choice we could ever have made. Elden Ring has a lot from the second part, but the first part? It would never feel like a surprise.
And yet. And yet, isn't that the surprise? And isn't that what's worth celebrating? Let's take a step back from inadvertently framing the success of the Elden Ring through the lens of editorial decisions. Right. Isn't it amazing that a game so idiosyncratic, so weird and so distinctive like Elden Ring not only made our choice, but also made it the game of the year for so many people in 2022? And isn't that awesome?
It's a reminder of the course From Software's games have taken over the past decade or so. Almost everyone who loved the early games of the modern From era – Demon's Souls, even the first Dark Souls – has a story about discovering this brilliant, weird, wacky thing that felt like a huge mystery. Everyone has a story about training – often painfully – how these games worked. And how these games thought: the choices they made and the choices their players should make. Everyone has a story about trying to win over someone else too: I'm playing this game right now and there's just nothing else like it. It doesn't explain anything. Multiplayer is terrifying. I literally don't know what's next.
These people who have been there from the beginning – they have attracted other people. Dark Souls was pretty big: decent sales, but absolutely overwhelming success in terms of how other designers, other developers and publishers took notice of it. The sequels were bigger. Bloodborne was bigger. Sekiro was huge, and now Elden Ring was the kind of game that other games avoided. Elden Ring was a box office hit. A tent pole. The dad, to use former Eurogamer editor Oli Welsh's beloved term.
And it wasn't just from the games themselves. Over the past few years, so many different games from different developers have borrowed a little bit of From Software's design, which means they've learned to push players a little bit harder, them a little bit more punishing, hiding their secrets, and tying their tangled worlds together the way From Software taught them to. Soulsborne games can be played fairly directly, like Steelrising, or they can be viewed through weird, personal lenses, as is the case with something like Death's Door. From Software's formula changed the Double-A scene, but it also distorted huge blockbusters. Even Zelda was paying attention.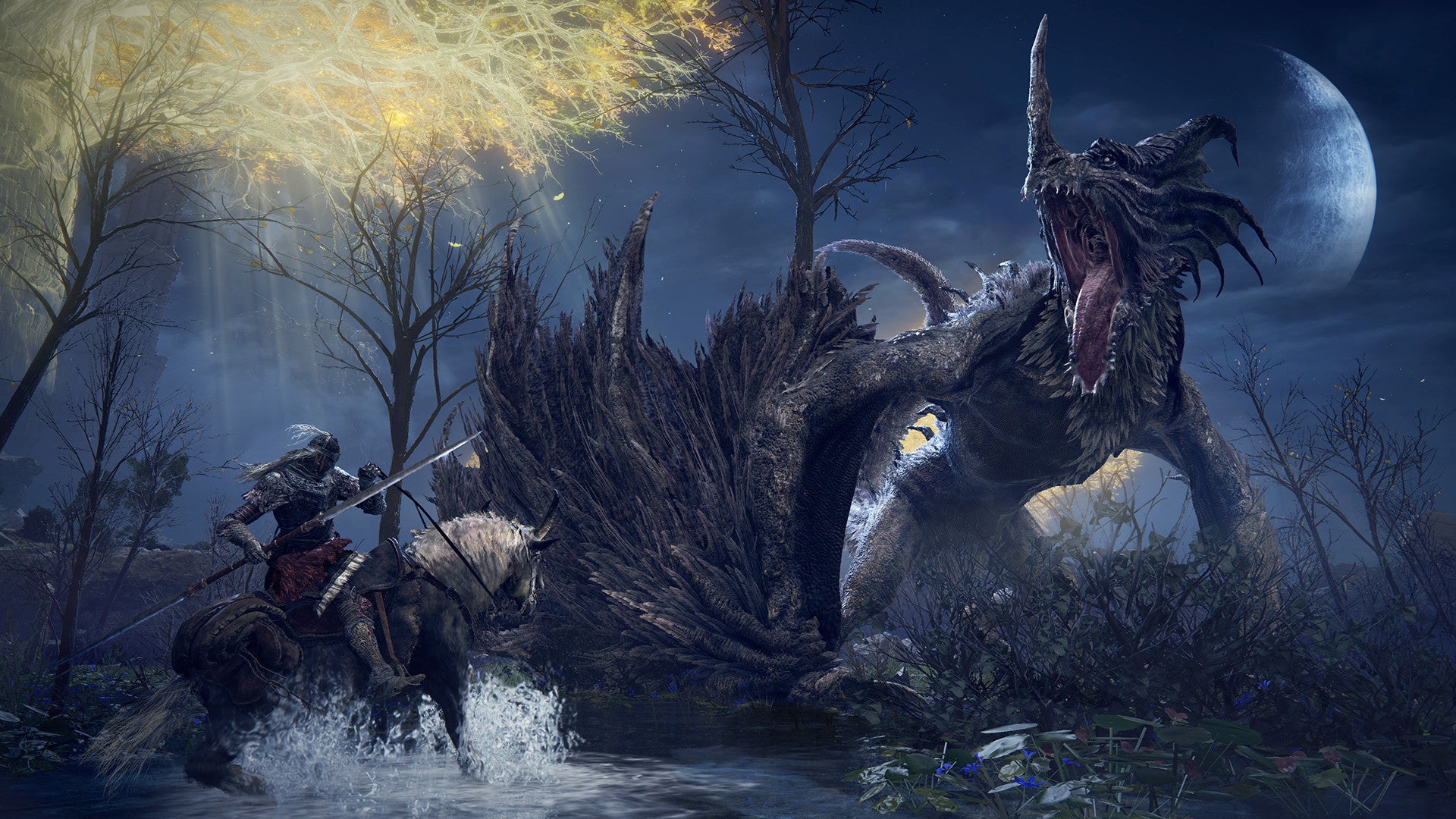 That's odd in a way, because it makes the sheer weight of individuality in the Dark Souls games, their sense of distinct authorship, dogma of the genre. And there are problems, even with the From stuff — for starters, its lack of accessibility considerations, including cognitive accessibility. But it's also kind of wonderful, because out of all the Futures games, eight or nine years ago, you had to choose between games as a service, open-world Ubi formulas, all that jazz — a huge chunk of the audience chose something, that was strange and abstruse and whose magic could be dangerous to discover. They chose different games, strange games, games worth talking about, writing about and reading about. Games worth fringing over if their accessibility thinking falls very short. Games that took you to places you really didn't know what was coming next.
And that's the last point. Elden Ring isn't just the biggest Soulsy game yet. It also feels like it will be the last for a while. From has already announced that his next game will be something very different, and there's also a feeling the sequel will be so good that they'll lack the magic of the early games simply because of what was once hidden and obscure , now fully visible , thoroughly understood. We know how the trick works, and while it's still an absolute pleasure to perform again, that spark of feeling absolutely flattened by something unprecedented is a lot harder to get.
That's good too, really. From gets something new to do – and potentially take the entire industry in a new direction. And we can all enjoy the feeling that From games have made us appreciate. Once again, we don't know what's next. Happy 2023 everyone!

To see this content, please enable targeting cookies.


https://www.eurogamer.net/our-2022-game-of-the-year-will-elden-ring-be-the-last-of-its-kind-1 Our Game of the Year 2022: Will Elden Ring be the last of its kind?