Patrick Vieira is not discouraged by the contract talks with Wilfried Zaha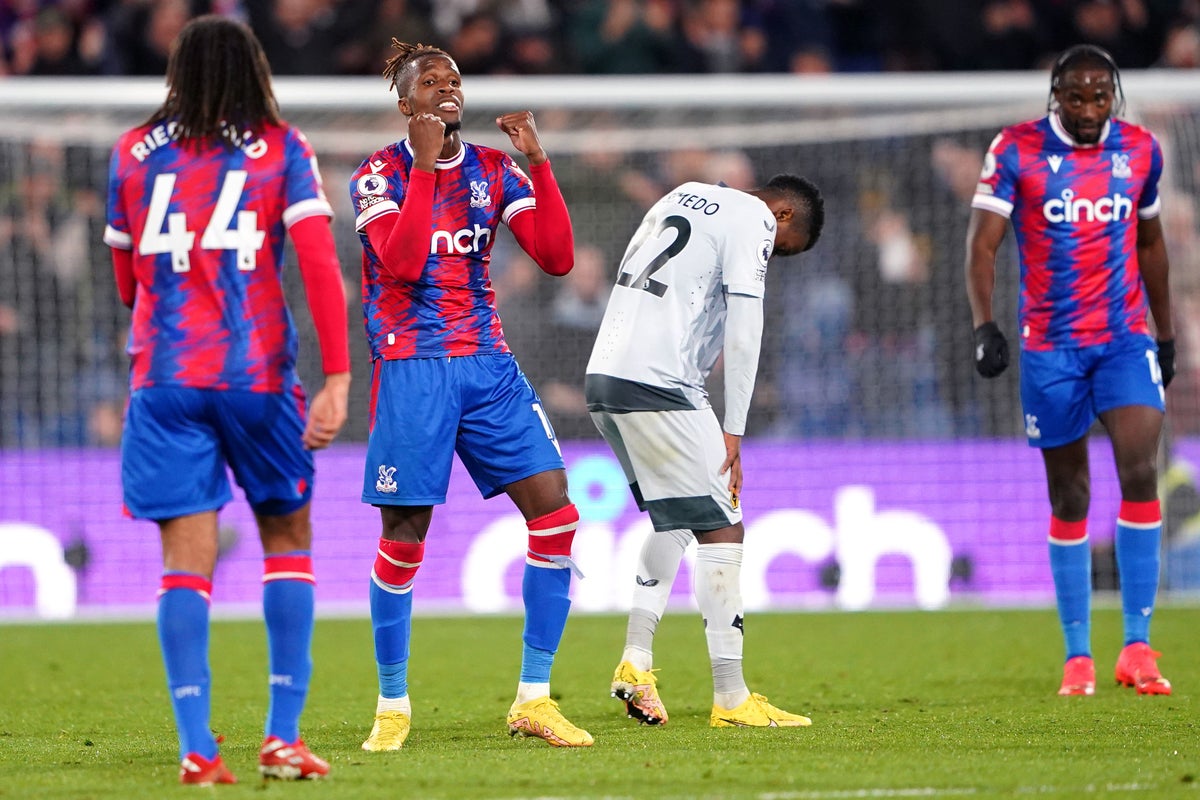 Wilfried Zaha's contract negotiations are not worrying Crystal Palace manager Patrick Vieira, who would like more consistency from his talisman striker.
Zaha scored his fifth goal of the season as captain in the Eagles' 2-1 comeback win over Wolves, sealing Palace's second straight win at Selhurst Park.
The Ivory Coast international's five-year deal with Palace expires next summer but Vieira brushed aside any hint that the impending contract expiry would keep him up at night.
"It's not a problem at all," Vieira said.
"Wilfried knows what the club thinks about him and we know what he thinks about the club.
"There will be a debate but for me and the club it's important that he plays at this level and is consistent and helps the young players around him to develop and we'll see what will happen."
Still, Vieira conceded, Palace's performance can sometimes be measured by the standards of the 29-year-old homegrown talent, who joined the Eagles academy as a 12-year-old.
Vieira said: "If Wilfried is having a good day, I would say the team is having a good day. He's an important player on and off the pitch, he's got the experience and today he was really good with possession, without possession, he worked really hard.
"But we want him to show those kinds of performances, be consistent and allow us to follow him and every player has to play at the level that we all know they can.
"Wilfried can work with them, can be a positive example of how clinical you can be in front of goal, but we're talking about Michael (Olise) and Ebs (Eberechi Eze) – they are young talents, they still have a lot to offer learning but they are in a good place at the moment."
Olise and Eze are among the young Eagles that Vieira hopes veteran Zaha will continue to mentor. The two equalize in the second half on Tuesday night after Adama Traore opened the scoring in the 31st minute.
Vieira reiterated his belief that 24-year-old Eze, another South London native, is a late-comer for Qatar to be included in Gareth Southgate's squad.
He said: "It's not just about the goal he scored, it's about his overall performance. He has the talent that makes him dream of going to the World Cup.
"I think he did his best but I think he's really starting to understand what the game is about, how to be decisive. He's got that talent but he can still improve in the last third but he's been very important to us since the start of the season and he's playing really, really well."
Wolves caretaker manager Steve Davis, meanwhile, was impressed by a young talent of his own after Hugo Bueno set up Traore's goal with a fine delivery on his full first-team debut.
He said: "I thought he was excellent. Hasn't let anyone down, I think he felt like we trusted him and knew him.
"We know he's a character, we know what he's capable of and he's ready. He was ready for that moment, I thought he took it really well. I thought it was excellent tonight."
https://www.independent.co.uk/sport/football/patrick-vieira-wilfried-zaha-crystal-palace-wolves-steve-davis-b2205654.html Patrick Vieira is not discouraged by the contract talks with Wilfried Zaha