Power Ninja Creates Lord of the Rings Characters In 20 Years [Exclusive Interview]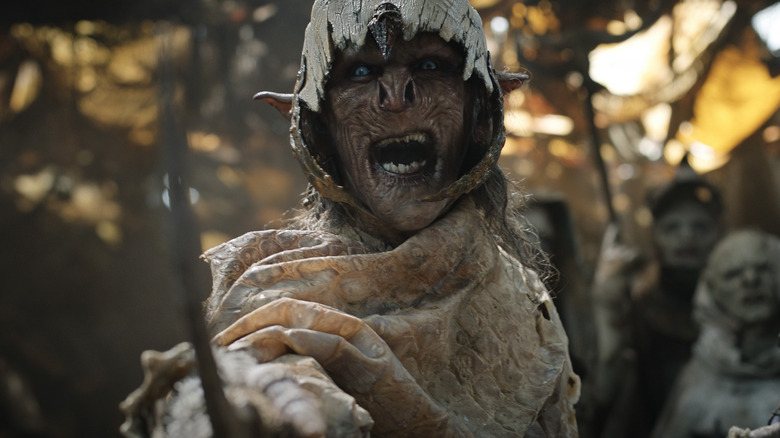 There are many fantastical creatures in "Lord of the Rings: The Mighty Rings." And many of these creatures, from orcs to dwarves to hunters, require their associated actors to undergo some sort of fake magic to make them look truly otherworldly. And no one better than prosthetic expert Jamie Wilson, for the job.
This isn't Wilson's first game in Middle-earth. The head of prosthetics for "The Rings of Power" is a member of the Weta Workshop, who worked on Peter Jackson's "Lord of the Rings" movies and will return to the world once. for the "The Hobbit" trilogy as an armor and weapons executive. .
"I started making hobbit legs in 1999 and I am still doing it," Wilson told /Film in an interview about episode 4 of "The Rings of Power."
I had the opportunity to speak with the show's head of prosthetics, Jamie Wilson, about how he and his team brought all these creatures to life, including the one we were introduced to. introduced in the most recent episode. Read on for that discussion. But before you do, here's your mandatory warning that there will be damaged for episodes through episode 4, currently streaming on Prime Video.
This interview has been condensed and lightly edited for clarity.
'Obviously something's wrong there'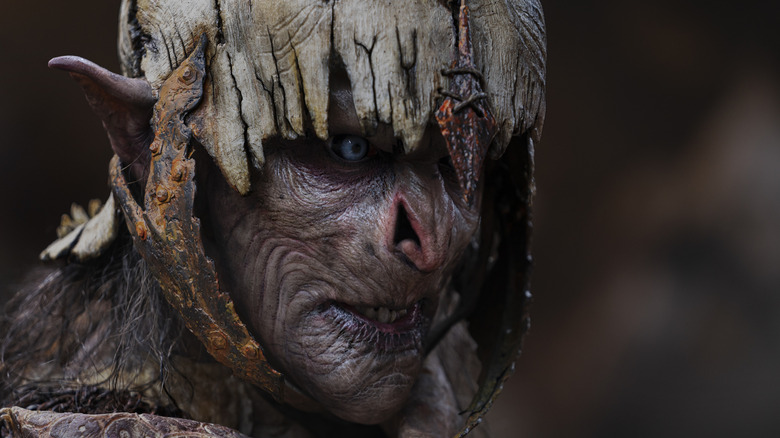 In episode 4, we finally meet Adar, who in my understanding – which you don't have to confirm or deny – looks like a spoiled elf. Can you share how you approached creating prosthetics for him and how you made it clear that there was clearly something out of the ordinary about him?
The main thing is that we don't want to turn him into some kind of monster or be too overpowered. It's more relatable if the audience says, "Oh my God, he's a goblin that's gone the wrong way." That adds a story to it more than he's just some crazy monster.
So it's important that we make sure we keep the spirit there, but at the same time there's darkness creeping in, possibly material – because you can clearly see he's been attacked or trauma at some point – and possibly a mental darkness too. crept into his soul. So we'd love to keep him pretty elf-like. But clearly, there's something not quite right there.
Are there any subtle actions you've taken that you think might not be obvious to a first-time viewer, that you just think it really brings out the fact that Adar isn't quite right? ?
Like I said, there's a fine line between going too far, but we needed to make him a little different. And if you actually line him up with one of the other main goblin characters, you'll really notice he has a more pronounced upper cheekbone here. And also some work on his ears, skin color, and scars too. His skin color appears to be infected or malicious – unlike the elves, which are beautiful, porcelain, and ethereal figures floating around. He's definitely not.
'We let the human character, the actor inside, pass through and not just suffocate in the prosthesis'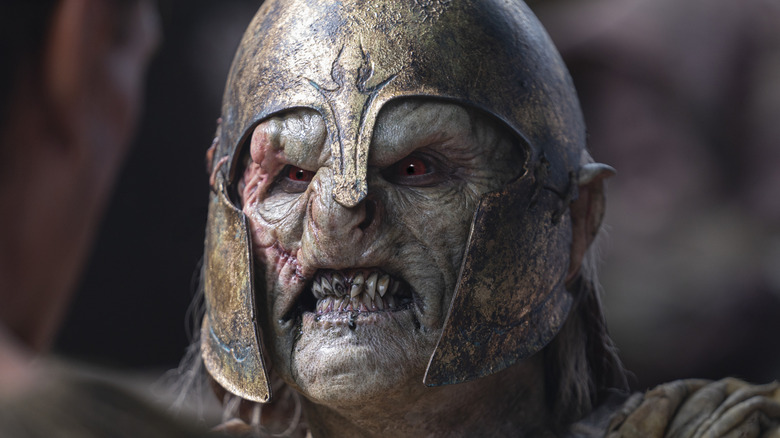 One thing that really caught my attention on the show was that no two Orcs are alike. They are very different in their facial features as well as their size and color. How do you approach creating such a vast population of different orc creatures?
We are in another era of Middle-earth [from the "Lord of the Rings" movies]but you still have to go back to them, because in the end, the era we've seen through previous products has created an expectation.
And there's also a fact of filmmaking – it's always going to be a man in a suit, so you can only go so far. And that person, especially with this production, has to run around pretty hard and the stunt work and action and fight sequences have to do, so you have to make it into something they actually do. practicability. We have a hierarchy – you make your lead Orc, and then you have some stunts [the orcs who take part in orc-related stunts on the show]and then you get into the bulk extras.
At the top end, all the hero orcs are very different. We try to pick people of different sizes and also people with different looks and activities. That filters down to stunts, where there are some unique looks, but we had to fit the stuntman's face – we couldn't choose the stuntman because of his looks, We had to pick him because he's a performer. And then you go into the supplement, which is when you start to iterate, because we're taking the elements from those heroes, plus some other generic bits, and we're mass producing the faceplate. masks and stuff. So it's a bit repetitive there, because I can't make thousands of different styles, that's just too much. But in the upper part, where you're clearly looking and your eyes are focused on, are our heroes, and we let the human character, the actor inside, get through, not just thrashed. in prosthetics.
It also means they have a lot of facial maneuverability and facial expression, so maybe that's why you're seeing quite a bit of difference. Then on top of that, you have loads of scars and palettes to add as you please. So you can actually take the same prosthesis and tweak it with a few additional pieces and different colors and it will look like a completely different prosthetic.
'It's like that favorite memory you have of your grandfather and his big and dangerous ears'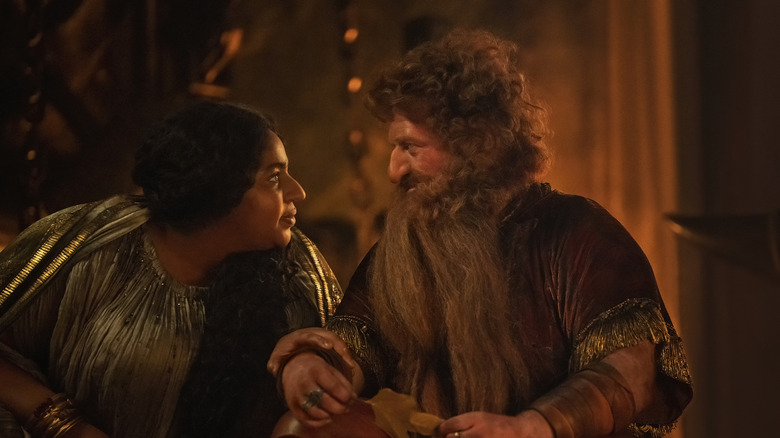 As for the Orc heroes, although they are different, do you have any lines for them?
We also divide them into different categories. So there are the ringleaders, and then there are the crazed serial killer Orcs. There are five different categories that we have, and then we work on the script and the actors are chosen, and we'll say, "Well, that's really a leadership role, so we wanted someone with the traits of a leader, perhaps more upright and educated – a squarer jaw, that sort of thing.
Reactor and serial killer – are they the same or are two separate types of Orcs?
Yes, they are the same.
Are Reavers a "Firefly" reference?
Oh, that's way higher than my salary. I don't know about that. I never watched "Firefly".
In episode 4, we also saw both King Durin III and Prince Durin IV. I knew they were played by different actors, but I couldn't help but realize when I saw them together that they were clearly related. And I know in Tolkien's original document the dwarves are actually supposed to be identical. As you are approaching the interface for both Durins, do you think of that to make them almost identical?
We didn't go down the whole boulevard… they were exactly the same, but we went back to what was described in the original text. Take the nose example – for the older father figure, the nose and ears are quite similar although we gave him a grandfather's nose where it was a bit oversized and the ears were slightly lowered. But they have similar characteristics. So that's why you can see a similarity, but it's not the same. It's like the fond memory you have of your grandfather and his big, dangling ears and big nose when you sit on his lap.
'I started making Hobbit legs in 1999 and I'm still doing'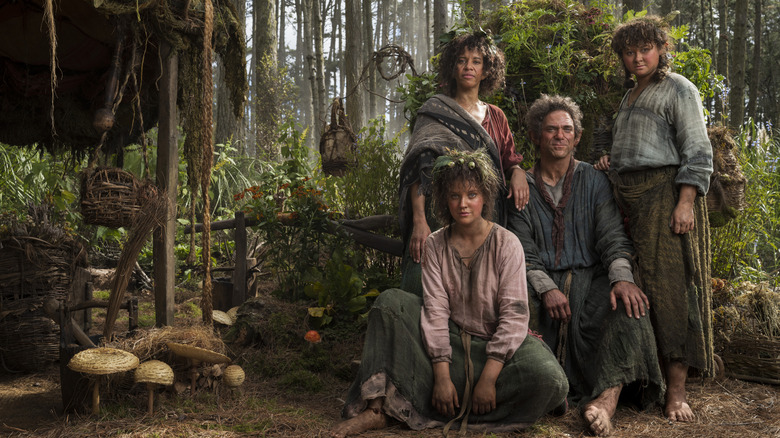 And I know we don't see them in episode 4, but it's clear that the hunters are a big part of the show and they're the forerunners of the Hobbits. And obviously we've seen hobbits on screen in the movies, and I wonder when you're going to make the janitor's feet, make them look different?
They're not too different – they're oversized hairy paws. The only real difference is technology and usability. I started making hobbit feet in 1999 and I'm still doing it, and the technology has gotten better for more comfort for the user.
We did that by thickening the sole and various ways, and we made the toes move when they were wearing them to get more animation from the foot and it looked less like a foot. the giant clown shoe they were wearing. But in reality, they're pretty much the same – they're big, have hairy, mud-covered paws.
You mentioned how technology has changed over the decades – what do you think has been the biggest change for you in making prosthetics?
When we did the "Lord of the Rings" trilogy, from 1999 to 2000, everything at the time was latex, essentially a sponge with a skin on top that you can draw. It is quite light, very easy to move, easy to tear. And it also absorbs all the water made by the body inside it, so it's no fun taking it off. And it's pretty dead to the paint job too – our skin is pretty transparent, if you have sunlight behind your ears you can see the sun shining through it. With a foamy latex, you don't get that, it's just dead solids.
But when we finished that production, Gimli was the first company we did with an encapsulated silicone prosthesis. And that has now become commonplace. For "The Rings of Power", we used silicone wrap, which is a silicone skin with jelly-like silicone in the middle. It allows some light to pass through it, and you can tone it up to varying degrees to match your skin tone.
It also warms your body, it cools with the outside temperature, and it moves more and because it's more skin-like, you actually get some of its light depth. It's an all-round improvement, but on the flip side, it's heavier, it's sweat-proof and doesn't tear quite easily.
New episodes of "Lord of the Rings: The Rings of Power" will release on Prime Video on Fridays.
Continue reading: The best Lord of the Rings characters not in the movie
The post The bourgeois Power Rings on creating the Lord of the Rings characters for 20 years [Exclusive Interview] appeared first on /Movies.
https://www.slashfilm.com/1012153/the-rings-of-power-head-of-prosthetics-on-creating-the-characters-of-lord-of-the-rings-for-20-years-exclusive-interview/ Power Ninja Creates Lord of the Rings Characters In 20 Years [Exclusive Interview]