News
Princess Eugenie welcomes her second child, Buckingham Palace say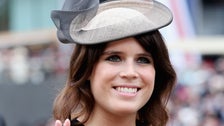 Princess Eugenie and Jack Brooksbank are "delighted to announce" the birth of their second child, Buckingham Palace said in a press release on Monday.
"Jack and I wanted to share the news that on May 30th, 2023 we gave birth to our baby boy, Ernest George Ronnie Brooksbank, aged 8.49 and weighing 7.1 pounds," the king wrote in a Monday evening separate Instagram announcement to coincide with the palace's statement.
She also revealed the special meaning of her newborn's first and middle names.
"He's named after his great-great-great-grandfather George, his grandpa George and my grandpa Ronald," Eugenie added alongside a photo of her newborn and one of her oldest children, a son named August, gazing at his new little brother.
"Augie already loves being a big brother," she added.
She also explained the inspiration for August's name in an Instagram post at the time, in which she told her followers that he was "named after his great-grandfather and his two great-grandfathers x5".