Queen Charlotte: The Bridgerton Story First Look: Understanding the Origins of the Queen's Rise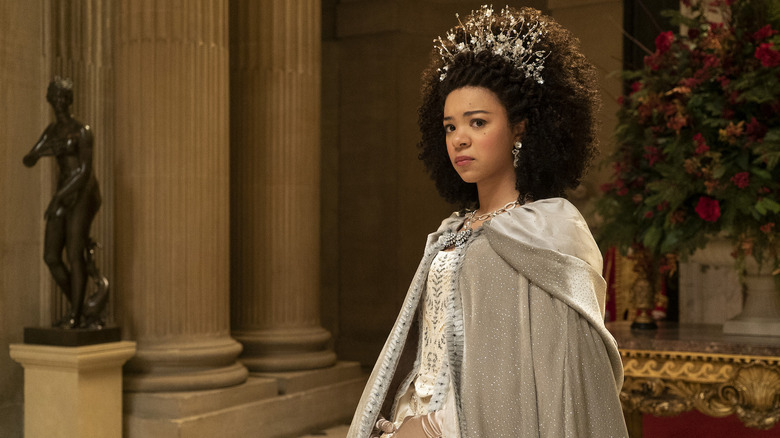 One of Netflix's most popular shows, "Bridgerton," whose first spin-off, "Queen Charlotte," is on the air. And now there's a sneak peek online along with a regal fit first (see above), appearing ahead of the streamer's global fan event, Tudum, at the end. this week.
"Queen Charlotte: A Bridgerton Story" is an upcoming limited series from writer and showrunner Shonda Rhimes and director Tom Verica. Created by Chris Van Dusen, "Bridgerton" is the first Netflix series written by Rhimes' production company, Shondaland. Now, "Grey's Anatomy" and "Scandal" creator Rhimes herself is taking the helm of a project that Netflix's official press release describes as "a prequel to the Bridgerton episode. focused on the rise and power of Queen Charlotte."
Rhimes and Verica are executive producing "Queen Charlotte" with Betsy Beers. Golda Rosheuvel will reprise her "Bridgerton" role as the beautiful, wig-wearing Charlotte, with India Amarteifio ("Line of Duty") playing a younger version of the queen. Both actresses appear in the video below, where you can hear Rosheuvel talk a bit about the series against the backdrop of a preview clip for Tudum.
'We have this amazing team of cards'
In the video, when asked her favorite part of Amarteifio's performance as the young Queen Charlotte, Rosheuvel said, "We have this kind of great tag team where we appreciate each other, you have You know what I mean? And the baton was passed on, which I think is a real beautiful metaphor for the old and the younger."
This makes it seem like "Queen Charlotte" will switch back and forth between the two timelines, with Rosheuvel's character and her youth sharing equal screen time — similar to Marlon Brando and Robert De Niro in the story "The Godfather", but there are more scenes perhaps directly interspersed through flashback.
In addition to Rosheuvel, "Queen Charlotte" also sees Adjoa Andoh and Ruth Gemmell reprising their "Bridgerton" roles as Lady Agatha Danbury and Lady Violet Bridgerton, respectively. They are joined by a long list of newcomers to Bridgerton-Verse, including Michelle Fairley ("Gangs of London") as Princess Augusta, Corey Mylchreest ("The Sandman") as the young King George, and Arsema Thomas in her television debut as young Agatha Danbury.
Rounding out the cast of "Queen Charlotte" are Sam Clemmett as Young Brimsley, Freddie Dennis as Reynolds, Richard Cunningham as Lord Bute, Tunji Kasim as Adolphus, Rob Maloney as Royal Doctor, Cyril Nri as Lord Danbury and "Bridgerton" season 1 and the two Hugh Sachs as the older Brimsley.
"Queen Charlotte" will continue to be in Tudum this weekend, with Netflix promising that "more surprises are in store." With any luck, fans should get to see some footage and/or hear release date announcements for the series soon, so stay tuned / Movies for that and all your needs on "Bridgerton".
Continue reading: 10 proven Apple TV shows for a subscription
The post Queen Charlotte: The Bridgerton Story First Look: Understanding the Origins of the Queen's Rise first appeared on /Film.
https://www.slashfilm.com/1023602/queen-charlotte-a-bridgerton-story-first-look-learn-the-origins-of-the-queens-rise/ Queen Charlotte: The Bridgerton Story First Look: Understanding the Origins of the Queen's Rise