News
Rep. Jamie Raskin debunks Trump's 'weird' argument of January 6th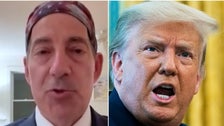 Rep. Jamie Raskin (D-Md.) called the latest allegation by a lawyer for Donald Trump "just hilarious" after the former president was indicted on Tuesday on four counts related to the Jan. 6 attack on the US Capitol was.
John Lauro, one of Trump's attorneys, described the charges as "an attack on freedom of expression and political advocacy" in a CNN interview.
But Raskin said on MSNBC that Trump's speech had nothing to do with it.
It is his actions that led to the indictment.
"For example, you have the right to say, 'Oh, I think the joint session of the House and Senate to count the Electoral College votes is a fraud or takes the presidency away from Donald Trump.' You can say whatever you want," Raskin said. "But once you actually try to obstruct the congressional session, you've gone from speech to conduct."
"It's like saying, 'Well, I think the currency is fake and everyone should be allowed to make their own money.' you can say that But once you start printing your own money, you're breaking counterfeiting laws. And the same is true of the electoral college."
In this case, he said, by debunking allegations of fraud, Trump not only expressed his ideas about the election, but also rallied "fake voters" to try to replace the real voters.
"At that point, they went from talking to behavior," he said.
Raskin said the Jan. 6 committee last year charged Trump with aiding and giving aid and comfort to insurgents — but Special Counsel Jack Smith did not charge the former president in that regard.
He said he believed it so prosecutors wouldn't have to argue about statements and could focus on the conduct.
Raskin called the evidence against the former president "overwhelming".
Check out more of his discussion on MSNBC below: